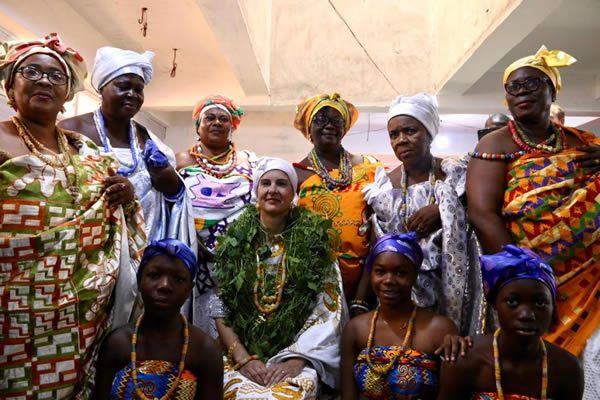 The British High Commissioner to Ghana, Harriet Thompson, has been made Development Queen mother of Gbese in Accra, with the stool name Naa Okaitso Mnalimi I.
The ceremony was attended by officials of the British High Commission, elders of the Gbese Stool and some queen mothers.
In her acceptance speech, Ms Thompson said her enstoolment was a testament to the relations between Ghana and the United Kingdom (UK).
She said the relationship had been very deep and long and that it relied heavily on the links between the peoples of the two countries.
Queen mother's role
Ms Thompson said it was a great pleasure to be welcomed home that way as a member of the Thompson Family, who are royals of the Gbese Stool.
"I am a member of the Thompson clan through marriage that has a strong connection with the Gbese Stool," she said.
The High Commissioner said queen mothers were not only to advise their chiefs but also to serve their communities to develop.
She said she had already visited the Queen Elizabeth School in Accra where she planted a tree, and would play her role as queen mother to support the development of Gbese.
She said tourism in Accra was an important aim of the Gbese Mantse and President Nana Addo Dankwa Akufo- Addo, who had visited Britain only recently to launch a festival to attract more tourists to Ghana.
She said she looked forward to working with the chief and people of Gbese to further strengthen the links between the people of the two countries.
She later received gifts from some queen mothers, and she in turn presented some drinks to the Gbese Stool in accordance with custom.

The Gbese Mantse, Nii Ayibonte II, said the High Commissioner was enstooled because of the laudable plans she had for the development of Gbese.
High Commissioner's plans
"The first time we met, she said this was my king and I told her the Thompson Family was from Gbese. We have the name Thompson in Gbese in Ghana and Britain,'' he said.
Nii Ayibonte further stated that they discussed extensively the development of Gbese and Ms Thompson promised to assist the Queen Elizabeth Primary School at Aayalolo and other projects within Gbese and the country at large. 
He said in the 20th century, the Gbese chiefs worked with the British Administration through the Governor of the Gold Coast colony to ensure
that the British Administration held effective and efficient governance in the interest of the Ga and Gbese people.
"The Gbese people are truly descendants of the Dan and Gad tribe, who were part of the Ga-Dangme ethnic group who migrated from Egypt," he said.
Source: graphic.com.gh