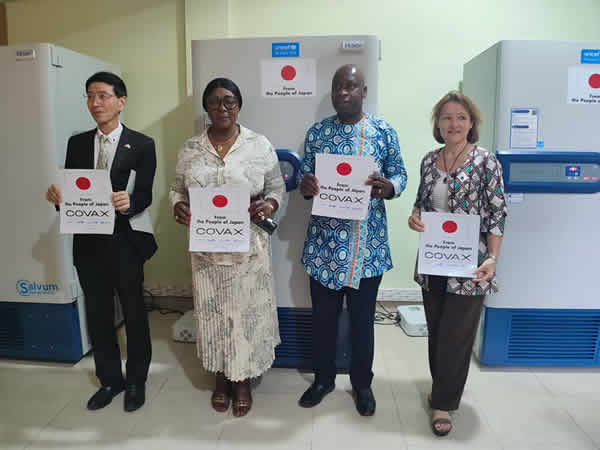 The government of Japan has donated 309,600 doses of AstraZeneca vaccines to Ghana in support of the country's vaccination campaign against the COVID-19 pandemic.
The vaccines which were manufactured in Japan were handed over to the Deputy Minister of Health, Madam Tina Gifty Naa Ayele Mensah by the Ambassador of Japan to Ghana, Mr Mochizuki Hisanobu on Friday (April 1, 2021) in Accra.
The vaccines are valued at $1,243,398.
In an address before handing over the vaccines, Mr Mochizuki said the donation was in fulfilment of a pledge by Japanese Prime Minister Fumio Kishida during the Tokyo Nutrition for Growth Summit on December 7, 2021, to contribute equal access to vaccines by donating approximately 10million doses of COVID-19 vaccines to Africa.
He said since the COVID-19 pandemic started, Japan had in cooperation with relevant international organizations including the UNICEF, provided support to Ghana in many areas including revamping the cold chain system to ensure an effective and efficient response in deploying COVID-19 vaccines, provision of six thermography systems which have been installed at various airports in the country to manage the COVID-19 pandemic.
He added that through the Economic and Social Development Programme, Japan had also implemented several health-related projects including partnering with international organizations on several projects to ensure the strengthening of community health systems during and post-COVID-19 pandemic.
"The COVID-19 has shed light on not only immediate health risks but also other challenges including malnutrition, food shortage and other conventional health challenges in African societies. TICAD 8 to be held on 27 and 28 August this year, would be a wonderful opportunity for strengthening Japan-Africa cooperation to overcome health challenges exposed during the COVID-19 pandemic and to realize human security in Africa," he said.
"To conclude, I would like to again commend GAVI, COVAX, UNICEF, the Ministry of Health, NTCC for their efforts in the successful arrival of the vaccines. I am convinced that bringing the virus under control will require coordination and strong partnership. In this regard, Japan will continue to coordinate and cooperate with the Government of Ghana and relevant international organizations to reduce the impact of the pandemic on the people of Ghana".
Receiving the items, Madam Mensah said the government of Ghana was extremely grateful to the support Japan had provided Ghana and the African continent during the pandemic.
"We particularly are also grateful for the donation of six thermography systems which have been installed at various airports in the country as well as here at the EPI to manage the COVID-19 pandemic. COVID-19," the Deputy Minister said.
"We also want to mention Japan's support for our Universal Health Coverage through CHPS expansion in the 5 northern regions and Maternal-Child Health Record Book project as well as Supporting Noguchi Memorial Institute for Medical Research".
For her part, UNICEF Country representative, Anne-Claire Dufay applauded the Government of Ghana for their relentless efforts and achievements in delivering vaccines across the country, including to remote areas.
"Over thirty million doses of COVID-19 vaccines have been received. And more than thirteen million doses have already been administered, with numbers continually increasing," she said.
Madam Dufay also expressed gratitude to Japan for supporting various health programmes in Ghana.
Source: graphic.com.gh