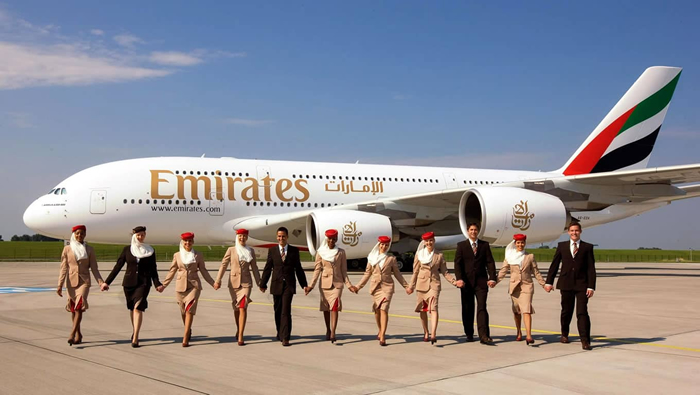 It is always delightful to see preschoolers in dashing dummy uniforms, which depict their dreams to, in the future, work in the sky.
However, with Ghana's inability to operate and sustain a national airline, many of these children, have had to kill their dreams once their graduation ceremonies are over.
Fortunately, there is still a huge window of opportunity; as more than 100 Ghanaian sky job dreamers have found a saviour in the universal favourite airline, Emirates Airlines, which has embraced them as pilots and flight attendants and more, to enjoy their dream jobs.
Daniel Kumevor, is one such grateful Ghanaian; and he is excited that Ghanaians have reciprocated this by distinguishing themselves as the toast of many travellers.
A supervisor on one of Emirates' record Airbus 380 buses, Daniel says the Ghanaian team is naturally flying high flag of the motherland. He explains that frequent fliers have come to define the Ghanaian spirit with some Four Hs: 'Hospitable, Humble, Honest and Happy.'
"Oh my, the comments are always positive, he recalls in a highly animated mode. "'You guys are always happy', 'You're so humble,' 'You're so hospitable', and 'You're very honest, only heart-warming compliments…'
Daniel didn't make his testimony far-fetched because his positive energy and kind spirit warmly connected to every member of the group of journalists, who interacted with him, at the Golden Tulip Hotel, where the crew put up when they are in Accra.
His smile never faded once, as he answered all kinds of questions seeking to probe both his private life and his experiences at the multiple award-winning global airline.
He explains, "I find contentment in making people happy, really, and that's what my job requires of me. Passengers come with varied moods, but you never know what they're going through. For me, my accomplishment is to be able connect with everyone – those who are celebrating as well as those who are grieving- to do their hearts some good."
"It doesn't matter if I have lost someone at home, once I wear my uniform, ( a chocolate brown suit, featuring pin stripes, with a cream shirt and a caramel, honey and red tie) I wear my smile and lead my team to serve our 550 plus customers in the best possible way."
Thus, with the Ghanaian gene of legendary hospitality already in his makeup, Daniel says, he inherited his mother's 'widow's mite' attitude of generosity, while he embraced his father's commitment to discipline and excellence. With these natural traits, Emirates is just like his other home in the sky.
Interestingly, the 33-year-old Dansoman-born, who majored in Russia and Psychology, and graduated with First Class Honours at the University of Ghana, did not begin life intending to work for any airline.
He is a humanist, he proudly declares; and so his passion was to use his knowledge in Psychology to make life more meaningful for deprived children across the globe. Working with UNICEF, was exactly his dream job.
Landing a job with Emirates was, therefore, a fluke, which started with meeting yet another Ghanaian crew member. In 2008, Daniel and his four colleagues were returning home from, Moscow, Russia, after a year's study of the language. They saw this strikingly beautiful black flight attendant working on the Emirates aircraft, on which they were journeying. Their fascination quickly turned into positive gossip in Ga, and to their astonishment, the lady – Phyllis Ashie-Lamptey- who has now become the sister he had always wanted, approached them and asked them in Ga, whether they from Ghana?" She later caught up with them after completing the boarding procedures and after a hearty chat gave them the airline's website address to take a chance when they needed a job.
Two years later, when Daniel was a Teaching Assistant at the University of Ghana, he decided to see what Emirates offered. To his amazement, he realised that the Dubai-based state-owned airline, was open to people from all nationalities, while the Emirates Airline Foundation, worked to better the lives of children in its coverage areas, in providing food education, health and housing.
Daniel likened Emirates' mission to that of UNICEF and put in an online application, expectant that a miracle about to happen, and it, indeed, unfolded.
Several months later, a pair of recruiters travelled to Accra and assessed more than 100 applicants, looking for positive, confident, flexible and friendly Ghanaians, who were keen to help others. They also had to be at least 21 years, and stand tall at 160 centimetres or more, but show no visible tattoos on their bodies.
At the end of a long day of anxiety, Daniel, who is 192 centimetres tall, was picked with 11 other beautiful Ghanaians, to undergo a six-week training and testing in Emergency Procedures, Safety Rules, Stewardship, among others, in Dubai to ready them to join the 'United Nations of talents.'
"Today, with 160 nationalities, we are truly a global organisation with talented people employed from every continent," says HH Sheikh Ahmed Bin Saeed Al-Maktoum, Chairman of the Emirates Group.
"I'm reminded constantly that no matter how many millions we invest in the latest equipment, it is our people that make the difference in terms of results."
Emirates' commitment to offering the best of comfort and service to its customers is yielding dividends – it has won more than 400 awards since it started operations in October 1985.
From two leased air-crafts, the continually profit making entity, has become a globally influential travel and tourism leader.
Emirates flies to more than 155 destinations in more than 80 countries, with a world record fleet of more than 265 aircrafts.
Last year, it won its 13th World's Best Inflight Entertainment Award at the Skytrax World Airlines Awards; and was also recognised as the Best Airline in the inaugural TripAdvisor Traveller's Choice Awards for Airlines.
"I'm the happiest person, really, because Emirates has given me a life-time opportunity," Daniel says. I enjoy every bit of it, plus I have travelled to all the continents of the world and seen at least three of the Seven Wonders of the World – The Great Wall of China, the Colosseum in Rome…."
"My only wish now is to see a second daily flight in Ghana so that our passengers would not be anguished when they don't get seats on our flights, for everyone deserves the Emirates experience."
Source: GNA