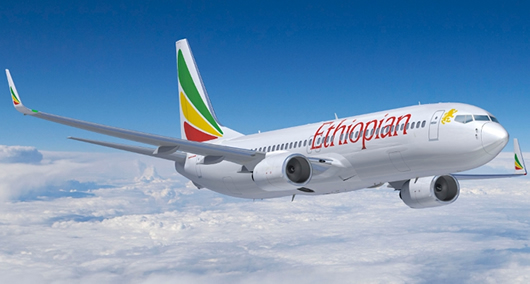 Ethiopian Airlines, the largest airline group in Africa, has placed an order for ten additional Airbus A350-900 aircraft, enabling further development to its fast expanding long-haul route network.
Last June, Ethiopian Airlines became the first African carrier to operate the A350 when it took delivery of the first of 12 aircraft in order.
A statement issued in Accra by Mrs. Hanna Atnafu, Manager, Corporate Communications, Ethiopian Airlines said the carrier now operated a fleet of four A350s, two of which were on lease.
"Today's order tops-up the Addis Ababa-based carrier's fleet, enabling it to pursue its growth strategy and objectives over the coming years," it added.
The statement said Ethiopian Airlines' A350-900s were configured in a two class layout seating 30 passengers in Business Class and 313 in Economy Class.
It said the spacious, quiet interior and mood lighting in the cabin contribute to superior levels of passenger comfort and well-being.
Mr Tewolde GebreMariam, CEO of Ethiopian Airlines, explained that "operating the youngest fleet in the industry with modern and comfortable customer features in cabin is one of the four pillars in our 15 years strategic roadmap, vision 2025, and this order placement for additional A-350s is one component of this strategy".
He said the performance, operational and cost efficiencies the airline had achieved with their initial A350-900s have resulted in these additional ten aircraft order placement and thereby suffice our ever-expanding global network.
"We will deploy the additional aircraft on our long haul routes connecting Addis Ababa with destinations in Africa, Europe, the Middle East and Asia," he said.
"Ethiopian Airlines' repeat order is a resounding endorsement of the A350, its suitability, flexibility and unmatched economics. We are delighted that the innovative aircraft -the A350- is closely associated with the world's fastest growing and profitable carriers," said Mr John Leahy, Airbus Chief Operating Officer Customers.
The A350 features the latest aerodynamic design and materials, including its carbon-fibre fuselage and wings. It is powered by new fuel-efficient Rolls-Royce Trent XWB engines. Together, these advanced technological features translate into unrivalled levels of operational efficiency, with a 25 per cent reduction in fuel burn and emissions in addition to significantly lower maintenance costs.
Ethiopian operates the youngest and most modern fleet with an average fleet age of less than five years.
Source: GNA