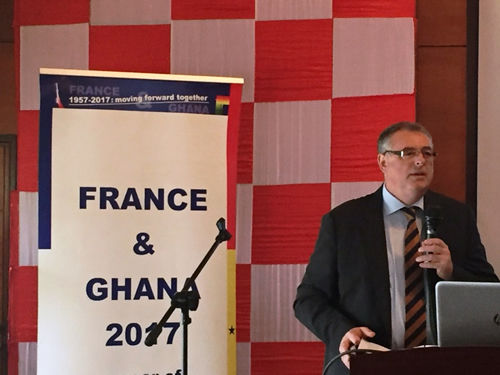 Researchers from the French National Research Institute for Sustainable Development (IRD), the Noguchi Memorial Institute for Medical Research, the Directors of African Centres of Excellence based at the University of Ghana and a researcher from University in Benin met at the Noguchi Conference Hall. The meeting was held in conjunction with the Annual Meeting of the International Joint Laboratory for the Control of Helminth Infections (LMI-CONSHELM).
Participants deliberated on the issues related to research for development in the West African Sub-region, the sustainability of African Centres of Excellence, their role on regional preparedness for global health risks, threats and emergency. They also addressed the initiative for an African Research Council (ARC), which is a support mechanism being considered for promoting scientific research of excellence in Africa, carried out by African institutions. It aims to overcome challenge that African Research faces (shortage of researchers, funding shortfall, scarcity of institutional collaboration, etc.).
"Partnerships like this would play a major role in promoting useful and applicable research in Africa, driven by African researchers and institutions for sustainable development of the continent" the Ambassador stated. This tool could be used to allocate endowments to strengthen capacity building. This initiative will be further discussed during the next African Union / European Union Summit, in Abidjan, 27-30 November 2017.
Participating research institutions:
–   Noguchi Memorial Institute for Medical Research (NMIMR), represented by his Director, Prof. Kwabena BOSOMPEM
–   West Africa Centre for Cell Biology of Infectious Pathogens (WACCBIP), represented by his Director, Prof. Gordon AWANDARE
–   West Africa Centre for Crop Improvement (WACCI), represented by his Director, Prof. Eric DANQUAH
–   Institute for Environment and Sanitation Studies (IESS), represented by his Director, Prof. Christopher GORDON
–   University of Abomey-Calavi, Benin, represented by Prof. Moudachirou IBIKOUNLE and Prof. Aurore HOUNTO
This discussion was held under the patronage of the French Ambassador to Ghana. The meeting also involved the Cooperation Service of the French Embassy in Ghana and the French Development Agency.
The main research interest of IRD and its partners (the Noguchi Institute and the University d'Abomey-Calavi, Benin) is to move from a fundamental research to specify and build optimal innovative prevention and therapeutic strategies against tropical infections. This includes development activities around the promising vaccine to prevent placental malaria and the investigation of the negative effects that co-infection with helminths could have on the vaccine response. "I commend the efforts off all partners in the promising research being conducted to develop a vaccine against pregnancy-associated malaria and the partnership put in place to achieve this ambitious goal" the Ambassador said.