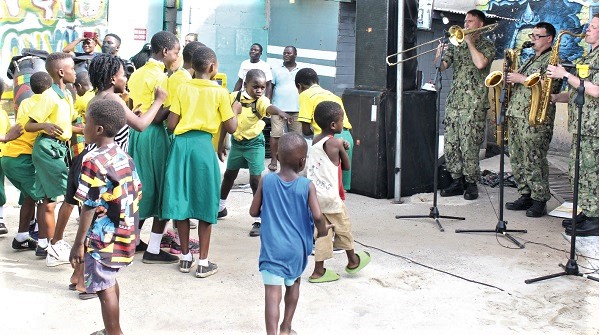 The United States Naval Forces Europe and Africa Topside Brass Band who are in Ghana, as part of their activities, performed for a Non-Governmental Organisation, Universal Wonderful Street Academy (UWSA), at Mantse Agbona in Accra.
UWSA, located in Accra Central is into informal education for children between the ages of 6 and 20 years. Their aim is to help take children off the street through programmes such as singing, drumming, dancing, boxing and football.
The leader of the eight-member band, MUI (SW) Kent Grover, said that the purpose of their visit was to strengthen the relationship between the two countries through Obangame Express Exercise, using music.
Obangame Express, conducted by US Naval Forces Africa, is an at-sea maritime exercise designed to improve cooperation among participating nations in order to increase maritime safety and security in the Gulf of Guinea and West African coastal regions.
"This exercise is to celebrate and strengthen the strong partnership between the US and Ghana military. The Obangame Express contains 30 different countries and it's all about strengthening maritime security in the Gulf of Guinea," he said.
Universal language
MUI (SW) Grover also noted that music was a powerful tool that connected people irrespective of differences.
"One of our favourite parts of this job is we get to play music around and make friends. Music is a universal language; it is something that connects people, it gets us all dancing, it gets us all smiling, and being in this beautiful country and playing for all these people is an experience that will linger on for a lifetime."
In an interview with the founder and director of the Universal Wonderful Street Academy School, Louis Yeboah Wonder Doe, he said he was happy that his school was part of the chosen ones.
"Any school could have been chosen but we were the lucky ones and it brings me so much joy. I am grateful to the US and the Naval Band for entertaining us."
A statement from the US Embassy in Ghana stated that the exercise was in the right direction because the US and Ghana shared a strong military-to-military relationship.
Sponsored by the US Africa Command (AFRICOM), Obangame Express Exercise is designed to improve regional cooperation, maritime domain awareness (MDA), information-sharing practices, and tactical interdiction expertise to enhance the collective capabilities of participating nations to counter sea-based illicit activity.
The 32 nations scheduled to participate in it include Angola, Belgium, Benin, Brazil, Cabo Verde, Cameroon, Canada, Cote d'Ivoire, Democratic Republic of Congo, Denmark, Equatorial Guinea, France, Gabon, Gambia, Ghana, Guinea, Guinea-Bissau, Italy, Liberia, Morocco, Namibia, Netherlands and Niger.
The rest are Nigeria, Poland, Portugal, Republic of Congo, Sao Tome & Principe; Senegal, Sierra Leone, Togo and the United States.
Also participating will be the Economic Community of West African States (ECOWAS) and the Economic Community of Central African States (ECCAS).
Source: graphic.com.gh