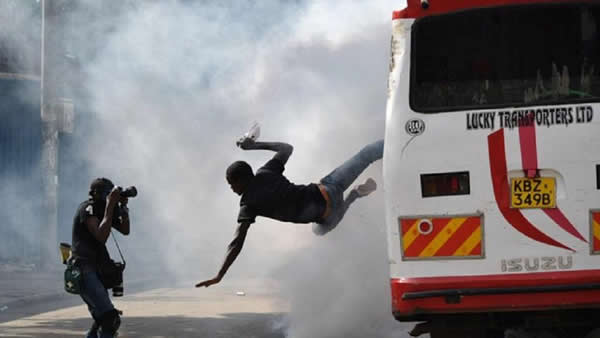 The Kenyan authorities "violated the public's right to information" by blocking broadcasts of TV channels that defied a ban on live coverage of the the symbolic inauguration of Raila Odinga as "the people's president", Human Rights Watch (HRW) said Wednesday.
The human rights body released a statement that also highlighted the deteriorating human rights record of Uhuru Kenyatta's government.
"Kenyan authorities have limited media coverage at a crucial time, and violated the public's right to information,"said Otsieno Namwaya, a researcher for HRW, quoted in a statement. "They should immediately allow these media to resume their work.''
Kenyan media owners earlier released a statement saying they had been warned by
President Uhuru Kenyatta 'not to broadcast' the planned inauguration of Raila Odinga. They say the president threatened to "close down and revoke the licences of any media outlet that would broadcast live".
On the day of the inauguration, some some channels defied this order, including three of the country's main private news channels, Citizen TV, KTN News and NTV, whose broadcasts have since been switched off.
This blockade has been condemned by human rights organisations, including the Committee for the Protection of Journalists.
"Since 2013, when President Kenyatta was first elected, Kenya has been on a slippery slope with regard to human rights," added the HRW statement.
"Government officials have intimidated, harassed and threatened media organizations, journalists and bloggers writing on sensitive topics,"said HRW. ''In some cases, critical government journalists and bloggers have been physically attacked or killed.''
Following the inauguration of Raila Odinga as 'the people's president, the government has declared his 'National Resistance Movement' organisation a criminal group, paving way for possible prosecution of its members.
Kenyatta's re-election in 2017 was accompanied by unrest that left 92 people dead, according to human rights defenders.
Source: Africa News