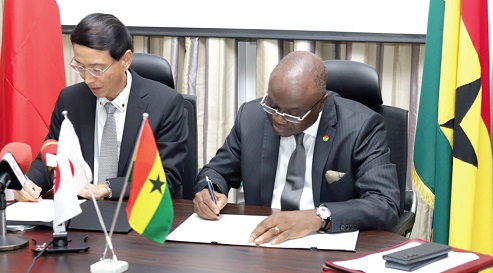 Japan has offered a grant of $20 million to Ghana for the improvement of healthcare delivery in the Northern Region.
Dubbed "Project for the improvement of healthcare system in Northern Region", it will involve facility development and procurement of equipment for the Tamale Central Hospital and the provision of equipment for the biomedical engineering department of the Northern Regional Health Directorate.
It will also improve the capacity of three district hospitals in the region. They are the Savelugu Municipal Hospital and the Bimbilla and Kpandai District hospitals.
Agreement
The agreement to that effect was signed between Ghana and Japan in Accra on May 11, 2022.
The Deputy Minister of Foreign Affairs and Regional Integration (MOFARI), Kwaku Ampratwum Sarpong, signed for the country, while the Japanese Ambassador to Ghana, Hisanobu Mochizuki, initialled for the Government of Japan.
Present at the ceremony were Deputy Minister of Health, Mahama Asei Seini, officials of MOFARI, the First Secretary for Development Cooperation at the Japan Embassy, Katsumura Akihisa, and the JICA Country Representative, Araki Yasumichi.
Appreciation
Mr Sarpong expressed appreciation to the government and people of Japan for the intervention and their continuous support to the country's socio-economic development and said the project would help improve the health system in the beneficiary region.
"The region, as we are aware, faces enormous challenges in the health sector, especially during the COVID-19 crisis. I wish to assure the government and people of Japan that this grant will be used for the intended purpose," he added.
The minister also thanked the Japanese government for the donation of COVID-19 vaccines to the country through a COVAX facility.
Rationale
The Japanese Ambassador to Ghana explained that he was in the Northern Region last month to launch a Japan-funded project in partnership with the World Food Programme (WFP).
While there, he said, he visited the Tamale Central hospital after which he held discussions with the Regional Director of Health and the Medical Superintendent of the hospital who narrated the challenges bedevilling the efficient management of the facility.
"Today's ceremony is, therefore, the beginning of an important process that will alleviate the challenges of the Tamale Central Hospital, including the improvement of the referral system and other services such as maternal and child health care," the ambassador said.
Source: graphic.com.gh