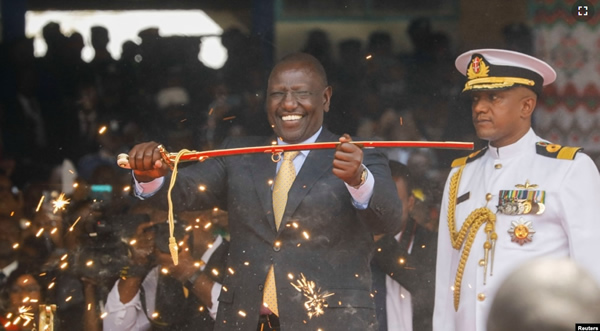 Kenya's new president, William Ruto, was sworn in Tuesday after a tightly contested election and a narrow win against his rival, Raila Odinga, who declined to attend the inauguration.
Tens of thousands of Kenyans and at least 20 heads of state gathered at Moi International Sports Center in Nairobi to witness the ceremony.
Many people tried to force their way into the stadium, and Kenya's Red Cross communications manager Peter Abwao said first responders treated about 40 people with minor injuries.
"There were those who tried to jump over the fence and then some fell. Some sustained cuts," Abwao said. "There were no major injuries as such, and they have been given first aid. Our teams are on the ground in case of anything, but the situation is calm."
Ruto takes the reins of power from outgoing President Uhuru Kenyatta, his former boss.
As deputy president, Ruto fell out with Kenyatta, who supported Odinga in last month's election.
Odinga lost with 6.9 million votes to Ruto's 7.1 million in an election marked by low voter turnout, a split election commission, and allegations of fraud by Odinga.
Despite supporting Odinga, Kenyatta welcomed the incoming president with a tour of State House, the Kenyan president's official residence.
He urged Ruto to work for all Kenyans without favoritism.
President Ruto faces the daunting tasks of lowering a high cost of living and managing a massive debt after years of borrowing.
He vowed to work for all Kenyans, reduce external borrowing, and deal with corruption.
Source: voanews.com