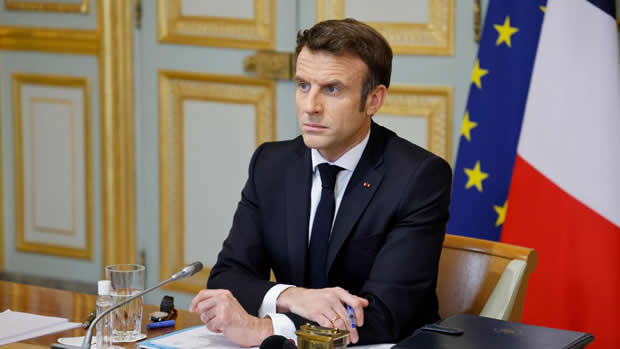 UK-France relations are heading for "serious problems" if the nations cannot say whether they are friends or enemies, the French president has said.
Emmanuel Macron reacted to remarks made by Foreign Secretary Liz Truss, who said the jury was out on whether the French president was "friend or foe".
Mr Macron insisted the UK remained an ally, despite the occasional error made by its leaders.
And Prime Minister Boris Johnson said Mr Macron was a "good buddy" of the UK.
Senior politicians have accused Ms Truss, who is favourite to succeed Mr Johnson as prime minister next month, of damaging the UK's relationship with France, a close ally.
Ms Truss – the UK's top diplomat – was asked about French relations during a Conservative Party event, where she and her leadership rival, Rishi Sunak, took questions from party members.
She said "the jury was out" on whether Mr Macron was a friend or foe, and she would judge him on "deeds not words", prompting cheers and applause from the audience.
Her comments came at the end of the leadership event – known as a hustings – during a series of "quickfire questions" posed by the host.
When asked the same question, Mr Sunak said Mr Macron was a "friend".
Speaking to reporters on Friday, Mr Macron said he would have given a similar response to Mr Sunak's, had he been asked the same question about the next leader of the UK.
"If the French and British are not capable of saying whether we are friends or enemies – the term is not neutral – we are going to have a problem," Mr Macron said.
He said the UK was a "friend, strong and allied, whoever its leaders are and sometimes in spite of the leaders and the small mistakes they can make in their speeches".
Chancellor Nadhim Zahawi defended Ms Truss's comments, calling them "light-hearted".
While he stressed the importance of the UK's close relationship with France, he suggested Ms Truss had made the comments with "a touch of humour".
But Labour's David Lammy accused Ms Truss of "a woeful lack of judgement", saying she had insulted one of "Britain's closest allies".
One Conservative minister said Ms Truss's comments had "completely undermined our relationship with France", calling her a "faux Thatcher", a reference to the Eurosceptic former Tory prime minister.
In a tweet, former foreign minister Alistair Burt said Ms Truss had made a "serious error" and should have struck a more diplomatic tone.
Former Conservative minister Gavin Barwell also questioned Ms Truss's comment, saying: "You would have thought the foreign secretary was aware we are in a military alliance with France."
Another ex-Tory minister, David Gauke, said: "There's playing to the gallery and then there's letting the prejudices of the gallery go to your head, especially when now is one of the worst times to try to fragment the West."
Ms Truss's comments have been picked up by French media, who have highlighted recent tensions between Paris and London.
The UK and France have clashed over several issues in recent years, including migrant boat crossings in the Channel, a military pact between Britain, the US and Australia, and Brexit measures involving Northern Ireland.
Mr Macron, who was re-elected for a second term earlier this year, has sometimes publicly criticised the Conservative government's approach.
Last year Mr Macron reacted angrily to Mr Johnson's public call for France to take back migrants who reached the UK.
The French president accused the prime minister of not being "serious" by making the call on Twitter, though they have since been pictured arm-in-arm at a G7 summit in Germany this year.
Source: BBC