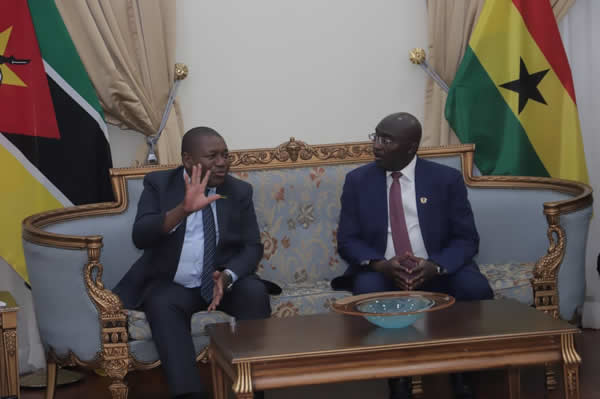 The President of Mozambique, Mr Filipe Jacinto Nyusi, arrived in Accra last Sunday for a four-day state visit.
He was received at the Jubilee Lounge of the Kotoka International Airport by the Vice President, Dr Mahamudu Bawumia, the Minister of Interior, Mr Ambrose Dery and the Minister of Lands and Natural Resources, Mr Abu Jinapor.
Brief
Briefing the Presidential Press Corps, a Deputy Director of Communications at the Presidency, Mr Jefferson Kwamena Sackey said the visiting President would be received by President Nana Addo Dankwa Akufo-Addo at the Jubilee House on Monday.
He said after the welcoming ceremonies, the two leaders will hold a tête-a-tête and after that join officials from both sides for bilateral talks and sign some pacts to strengthen economic and diplomatic relations between the two nations.
He added President Akufo-Addo and his Mozambican counterpart would later brief the press and take some questions. From the Jubilee House, Mr Nyusi would lay a wreath at the Kwame Nkrumah mausoleum and be treated to a state dinner in the evening at the Jubilee House.
Mr Sackey said, Mr Nyusi accompanied by President Akufo-Addo would visit the headquarters of the African Continental Free Trade Area (AfCFTA) and hold discussions with the Secretary General of the AfCFTA and the rest of the staff.
On the third day, Mr Sackey noted that Mr Nyusi would attend the Annual General meeting of the African Development Bank and after that meet his compatriots in Ghana for a durbar.
He said Mr Nyusi would address the Parliament of Ghana on Wednesday before leaving the country.
Source: Graphic Online