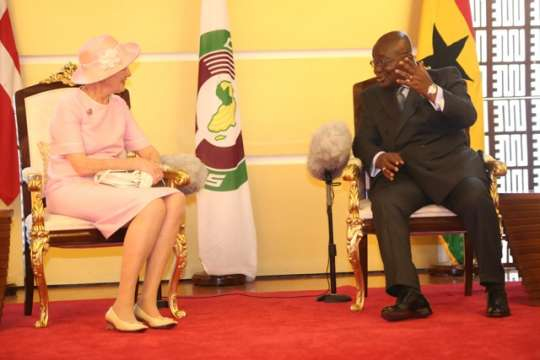 President Nana Addo Dankwa Akufo-Addo on Thursday received Denmark's Queen Margrethe II at the Flagstaff House, as the monarch began activities marking her five-day historic visit to Ghana.
"You are really welcome to Ghana… we are excited and thrilled by your presence in our country," President Akufo Addo told Queen Margrethe as both leaders settled to a tete-a-tete at the ceremonial room of the Presidency.
Earlier, the Queen, on arrival at the seat of government, inspected a full guard of honour mounted by the Ghana Armed Forces, and took the national salutes of both countries amidst the booms of the 21 guns fired in her honour.
An elated President Akufo-Addo recounted the peculiar longstanding history and relations between Ghana and Denmark, spanning some four centuries, optimistic that the monarch's presence in Ghana would further deepen the bonds of friendship shared by both nations.
"You know that between you and us, there is a very long history…four or five centuries of history," the President said as the pair discussed issues of mutual benefit.
The President continued: "One of our greatest national asset bears your name….Christianborg Castle, it continues to be more a part of the Ghanaian projection.
"That alone means there is a constant reminder of the relations between us…we are hoping that your visit will develop and cement the relations between our two countries', the President said.
This is the first time in Ghana's history that a Danish monarch is visiting the country, and West Africa in general. Her visit to Ghana is at the behest of President Akufo-Addo.
With Ghana's policy increasingly focusing on developing good trade and investment with its partners, President Akufo-Addo was hopeful that the business delegation that acccompnied the queen would accentuate the economic partnership and investment opportunities for greater cooperation.
"I'm looking forward to the issues between the Danish business people and their Ghanaian counterparts…..Denmark has been a solid ally in so many areas of Ghana's national lives and we have been affected positively by your generosity," he said.
The President used the occasion to thank the Danes for their generosity and support "which we treasure and value and have put to good use."
Queen Magrethe II was pleased to be in Ghana and said she looked forward to deepening the ties between her country and Ghana.
Activities outlined for the state visit include; a business conference, cultural visits in Accra, a state dinner hosted by the President, and site visits to Danish projects in Accra.
The Queen is also expected to meet the Danish community in Ghana and visit some cultural sites in the Eastern Region.
Source: GNA