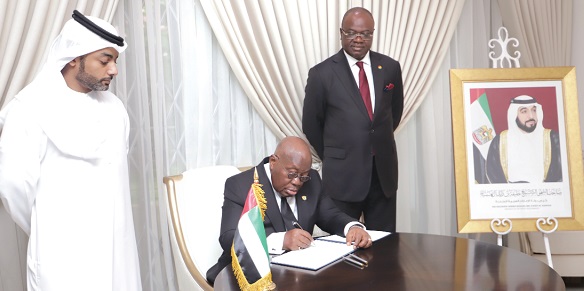 President Nana Addo Dankwa Akufo-Addo has described the late President of the United Arab Emirates (UAE), Sheikh Khalifa bin Zayed Al Nahyan, as "a great friend of Ghana and a distinguished servant of his people".
"The entire people of Ghana and the government join me and my wife and family in expressing our sincere condolences and deep sympathies over the loss of this eminent ruler," he said.
This was among the comments President Akufo-Addo wrote in the Book of Condolence opened for the former leader of the UAE in Accra yesterday.
Sympathies
Later in a chat with the Charge d'Affaires of the UAE in Ghana, Amer Jamil Ali Al Alawi, President Akufo-Addo further expressed the sympathies of the government and the people of Ghana to the government and the people of UAE.
He said Ghana and the UAE had had great bilateral relations and gave an assurance that the government would continue to work to deepen the collaboration for the mutual benefit of the two nations.
For his part, Mr Al Alawi commended President Akufo-Addo for the show of concern and the expression of the condolences of the government and the people of Ghana following the loss of the UAE leader.
He also pledged to build on the existing relations between the two countries.
About Sheikh Al Nahyan
Sheikh Al Nahyan was born on September 7,1948 and passed away on May 13, this year. He was the second President of the UAE and ruler of Abu Dhabi, serving from November 2004 until his death this year.
Last Saturday, the Supreme Council of Rulers of the UAE selected Sheikh Al Nahyan's successor, his half-brother and the nation's third President, Sheikh Mohammed bin Zayed Al Nahyan, aka MBZ.
Congratulatory message
In a Twitter message congratulating the new leader, President Akufo-Addo said: "The people and the government of Ghana and I congratulate the newly elected President of the United Arab Emirates, His Excellency Sheikh Mohamed bin Zayed Al Nahyan."
He expressed the hope that the new President would continue on the path of delivering unity, security, progress and prosperity to the people of the UAE.
President Akufo-Addo added that it was his overriding hope that the already strong Ghana-UAE relations would grow from strength to strength on a shared agenda of freedom, development, progress and prosperity.
Source: graphic.com.gh