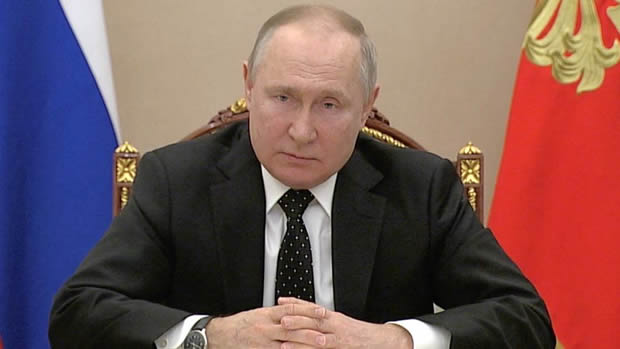 Russian President Vladimir Putin says the West will not be able to cut itself off from Russian oil and gas for several years.
He added that nobody knows what might happen in that time, so Russian companies would not be "concreting over their oil-wells".
It comes as a US official admitted that Russian profits on energy may be higher now than they were before the war.
The EU currently imports around 40% of its gas from Russia.
The bloc has pledged to reduce its dependency on Russian oil by 90% by the end of 2022, but so far has not made any commitments on gas.
The US has placed an embargo on all Russian energy products. The restrictions on Russian energy are designed to punish Moscow for invading Ukraine.
But rising global oil and gas prices mean that Russian profits could have risen in recent months, despite a reduction in the overall supply.
"The volume of oil is decreasing on the world market, prices are rising," President Putin told a group of young entrepreneurs.
"Company profits are rising," he added.
That idea was echoed on Thursday by US energy security envoy Amos Hochstein.
Asked at a Senate hearing if Russia could be earning more now from fossil fuels than it was before the war, Mr Hochman replied "I can't deny that".
The Russian president was speaking on Thursday after attending an exhibition in Moscow dedicated to the 350th anniversary of the birth of Russian monarch Peter the Great.
The 18th Century ruler fought a long territorial war against Sweden, which Putin appeared to compare to his invasion of Ukraine.
"You get the impression that by fighting Sweden he was grabbing something. He wasn't taking anything, he was taking it back," he told his young audience.
"It is our responsibility also to take back and strengthen," he said, in an apparent reference to Ukraine.
Source: BBC