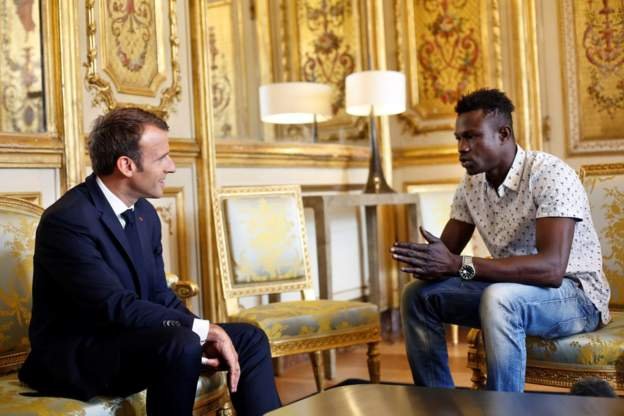 Malian migrant Mamoudou Gassama, who shot to worldwide fame last month when he scaled a building in Paris to save a toddler, says he is delighted to return to his native country for a visit.
"I am so happy. I am so very, very happy because everyone came to meet me at the airport and then I saw my father and I saw all the members of my family. I hadn't seen my father for nine years," he told BBC Afrique.
Mr Gassama, 22, crossed the Mediterranean on a migrant boat in September 2014. He joined his brother in France and worked on building sites.
On 26 May this year, he saw a toddler hanging from the balcony of a fourth-floor Paris apartment block.
He spontaneously scaled the building and saved the four-year-old. He was filmed by people down below and was dubbed "Spiderman".
''I wasn't afraid. I am like anyone else. Yes, I showed courage. It came from God. God saved me,'' he said.
France's President Emmanuel Macron thanked Mr Gassama in person and promised he would receive French nationality.
Next week, he is due to start an internship with the prestigious Paris fire brigade.
''I have done the medical checks. I shall sign my contract on the 28th. Then I shall be in training for 10 months," Mr Gassama told BBC Afrique.
Mr Gassama, who comes from a village near Kayes in western Mali, is expected to remain in the country for three days and is due to meet President Ibrahim Boubakar Keita.
Source: BBC