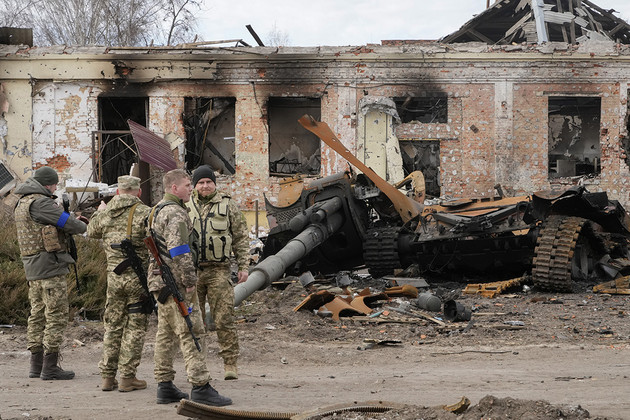 Ukrainian troops have broken through Russian positions on the Dnieper river north-east of Kherson, a strategic Russian-held city in southern Ukraine.
The advance was reported by the Russian military and Russian-installed officials in the region. There is heavy Russian defensive fire, they say.
Ukraine's President Volodymyr Zelensky said "there are new liberated settlements in several regions".
In the east, Ukrainian forces pushed into Russian-held Luhansk region.
President Zelensky said "fierce fighting continues in many areas", in his evening address to the nation, but he did not give details.
On Saturday his forces recaptured the important hub town of Lyman in the east, lying near the Luhansk regional border. Russia's military had turned Lyman into a logistical base.
Russia's proxy forces in Luhansk said Ukrainian troops had pushed a few kilometres into the Luhansk region. Reports suggest that the Ukrainians are moving towards the Russian-held towns of Kremenna and Svatove in Luhansk.
In the south, Vladimir Saldo, the Russian-installed leader in Kherson, said Ukrainian forces had broken through near Dudchany, a town on the Dnieper about 30km (20 miles) south of the previous front line. The river is called Dnipro by Ukrainians.
"There are settlements that are occupied by Ukrainian forces," Mr Saldo said. Some Russian reports say the Ukrainians have now taken Dudchany.
A Russian defence ministry spokesman, Igor Konashenkov, said "numerically superior" Ukrainian tanks had "driven a deep wedge" south of Zolota Balka, a village that marked the previous front line on the Dnieper. He claimed the Russians had killed about 130 Ukrainian troops in that fighting.
According to Mr Saldo, two Ukrainian battalions tried to reach the Kakhovka hydroelectric power station, about 70km (44 miles) east of Kherson. The power station is in the port city of Nova Kakhovka.
The Ukrainian advance is targeting supply lines for as many as 25,000 Russian troops on the west bank of the Dnieper, Reuters news agency reports.
From the north-western side of the Kherson front, Ukrainian artillery has heavily damaged the Antonivsky Bridge, a vital link for Russian forces in the city.
Kherson and Luhansk are among four regions which Russian President Vladimir Putin has declared to be part of Russia, following so-called referendums denounced as fraudulent by Kyiv and its Western allies. Russia does not fully control any of the four regions.
The military reversal for Russia came just hours after Mr Putin's declaration on Friday and a big concert in Moscow's Red Square to celebrate the territorial claim.
Kyiv has vowed to retake all the territory annexed by Russia, including Crimea, seized by Russian troops in 2014.
The Russian defence ministry says reservists drafted into the army under Mr Putin's mobilisation order last month are now undergoing intensive combat training in the Russian-controlled Luhansk and Donetsk regions. The Kremlin plans to call up about 300,000 reservists – though Mr Putin did not set an upper limit.
Source: BBC