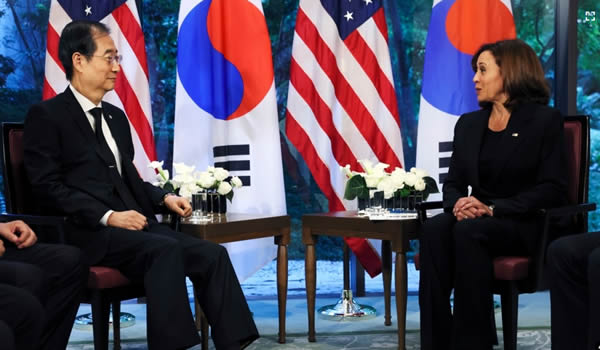 U.S. Vice President Kamala Harris will visit the Demilitarized Zone dividing South and North Korea, White House officials said Tuesday — making hers the highest-profile visit to the DMZ by an American official in three years.
Harris is spending most of this week in South Korea and Japan, two East Asian nations the Biden administration sees as key allies in the region as China grows bolder. Meanwhile, Pyongyang has also gotten more brazen, firing a short-range ballistic missile over the weekend.
Harris was among dozens of foreign dignitaries in Tokyo on Tuesday to pay respects to assassinated former Japanese leader Shinzo Abe, who was killed in July.
But she also used her time in the region to stress how the U.S. values Japan and South Korea as strong allies in the face of an emboldened China. She sat down with both leaders, and with new Australian Prime Minister Anthony Albanese, in Tokyo on Tuesday.
"The alliance between Japan and the United States is a cornerstone of what we believe is integral to peace, stability and prosperity in the Indo-Pacific region," she said. "And this is something we prioritize because we also believe it is in the best interest of the American people in terms of their security and prosperity and we do believe the same for Japanese people."
She plans to underscore the U.S. commitment to the region by visiting, on Thursday, the Demilitarized Zone that divides South Korea from its isolated neighbor. That makes her the highest-profile U.S. visitor to the DMZ since former president Donald Trump, who went in 2019.
North Korea accuses U.S. of provocation
"The United States compelled the DPRK to adopt a law on the policy of nuclear forces in defiance of the US hostile hostility," Kim Song, North Korea's ambassador to the United Nations, said on the floor of the United Nations General Assembly last week.
"The United States should clearly understand that its heinous and hostile policy against the DPRK over the past 30 years had just brought about today's reality, and ask and answer itself and ponder over how far it would prolong this situation in the future," he added.
Analysts say that North Korea clearly dislikes the closeness between the U.S. and South Korea.
"North Korea has expressed displeasure about this and in a way that only they can," said Chris Johnstone, Japan chair at the Center for Strategic and International Studies. He spoke to VOA via Zoom. "There was another ballistic missile test that they conducted over the weekend, and it's widely expected that they will conduct another nuclear test in the weeks ahead, this fall."
Analysts say they don't anticipate any policy announcements from this trip, which included sit-downs with the leaders of South Korea and Australia. But Johnstone said the vice president goes to Asia with a mission.
"I think one of her main purposes is to quietly encourage both Prime Minister Kishida and President Yoon [Suk Yeol] to try to make progress in this relationship because I think solidarity between the United States, South Korea and Japan on key issues in the region really sends a powerful message," he said.
Harris seemed to echo that in her own comments on Tuesday, when she stressed that she sees the three countries as being in a "trilateral relationship — certainly a direct responsibility that we have and a sense of responsibility to the security of Korea, but also thinking of that relationship in the context of the alliance with Japan."
She may be bringing other messages, too. In a video previewing the visit, analyst Shihoko Goto noted that Harris, the first American woman to serve as vice president, is breaking some new ground in a traditionally conservative space.
"The White House is calling it 'a meeting with groundbreaking Korean women,'" Goto said. "And so this is really an opportunity to focus on an issue that is close to Harris' own political interests, which is female empowerment."
It is delicate, difficult and diplomatic work – and this is just the beginning. Harris' trip takes her Thursday to the sharp edge of a continuing, simmering Korean conflict, just 38 kilometers from Pyongyang.
Source: voanews.com