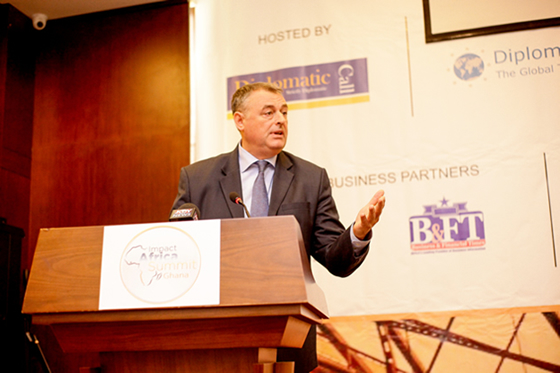 Once again, government officials, the diplomatic community, development partners, business executives, academia, the media and civil society groups would come together for the second annual Impact Africa Summit: Ghana to continue discussions on the implementation and realization of the Sustainable Development Goals (SDGs) in Ghana.
The Impact Africa Summit scheduled for Thursday, November 30 in Accra, has become Ghana's biggest platform for deliberations and discussions on the country's commitment to achieving the SDGs and also celebrate illustrious sons of the land contributing to the socio-economic development agenda of the country.
The summit further presents a unique opportunity for networking and updates on investment opportunities in Ghana while serving as a marketing avenue for businesses to build a top of mind brand awareness among government officials, diplomats, heads of local and foreign businesses, professionals from various fields, civil society groups, etc.
Following from the 2016 edition, where it was unanimously agreed that; the social progress and economic growth of Ghana and the African continent should be a shared responsibility built on PARTNERSHIPS, the 2017 Impact Africa Summit's Keynote Address would be on the subject ""Building partnerships for the Sustainable Development Goals – AFRICA".
The address would among others establish "Partnerships" as an underlining factor for success of the SDGs in Ghana and Africa, identify the various sectors and stakeholders in creating partnerships for the SDGs, suggest innovative approaches of partnerships in the implementation of the goals and also propose models of partnerships, accountability and stakeholder engagement.
A high level panel would also take their turn to explore how Foreign Direct Investments (FDIs) can be channeled as a source of financing the SDGs in Ghana. The panel would focus their discussion on establishing a link between FDIs and the SDGs, identifying priority sectors and opportunities for foreign investments and also propose measures to be put in place to create an enabling environment for investors.
Five personalities would further be honored and celebrated for their contributions to the socio- economic and development agenda of the country in Education, Leadership and Governance, Health, Entrepreneurship and Media and Communication as the Impact Africa Summit: Ghana 2017 Laureates.
The Laureates for the 2016 Impact Africa Summit included Professor Kwesi Yankah, H.E. John Agyekum Kufuor, Togbe Afede XIV, Farida Bedwei, Ken Ashigbey and Professor Enyonam Yao Kwawukume. The 2017 Impact Africa Summit is being hosted by the International Perspective for Policy & Governance (IPPG) in partnership with the UNDP, the Sustainable Development Goals Centre for Africa and the Oxford Business Group.