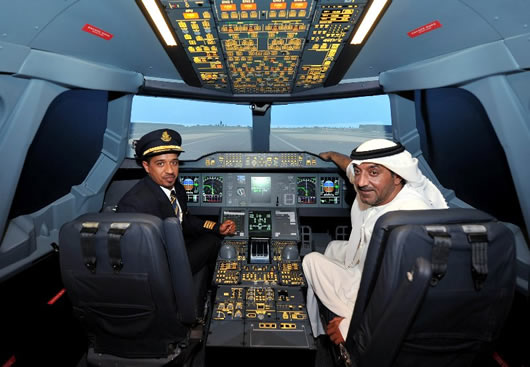 Emirates Airline, has officially launched its newest Emirates Official Store and the Emirates A380 Experience – the Middle Easts first public A380 flight simulator – at the Dubai Mall.
The launch, by His Highness Sheikh Ahmed bin Saeed Al-Maktoum, Chairman and Chief Executive, Emirates Airline & Group, will allow visitors to the Dubai Mall to connect with aviation like never before.
Located at The Village at Dubai Mall, the Emirates A380 Experience introduces visitors to the flight deck of the worlds most modern aircraft, allowing guests to experience the thrill of landing and taking off from 12 of the worlds busiest airports in different weather conditions.
Adding to the excitement, guests will be scored on how well they navigate the aircraft, allowing them to compete against family and friends.
This is the airlines second such project, having launched the Emirates Aviation Experience in London last year, to a strong public reception.
In a statement issued to the Ghana news Agency in Accra on Wednesday, Sheikh Ahmed noted: Emirates is the largest operator of the A380 with 47 in our fleet, and it is an immensely popular aircraft with our customers.
We are delighted to present aviation enthusiasts with another unique perspective to the worlds largest passenger aircraft with the Emirates A380 Experience.
Based on what we have seen in the UK, we believe the Emirates A380 Experience will be a very popular activity for mall visitors as well as for team building activity from corporate group, the statement stated.
The statement said Emirates aims to connect with a broader audience in a high-traffic lifestyle environment and provide them with a piece of the Emirates brand experience regardless of when they next travel.
Guests of the Emirates A380 Experience will have the chance to fly past Paris historic sites, soar over the canals of Amsterdam, and take in Hong Kongs unmistakable cityscape, all on high-definition screens, the statement said.
Starting as a line of corporate giveaways, Emirates has progressively developed its range of branded merchandise eventually launching its first Emirates Official Store in 1996.
Emirates merchandise has grown in both range and popularity, and can be found being used, worn, collected and displayed by its customers and fans around the world.
With hundreds of items on offer, shoppers at The Dubai Mall can take home a piece of Emirates as a memento, or gifts for their loved ones.
Both the Emirates Official Store and Emirates A380 Experience at the Dubai Mall are now opened.
Source: GNA