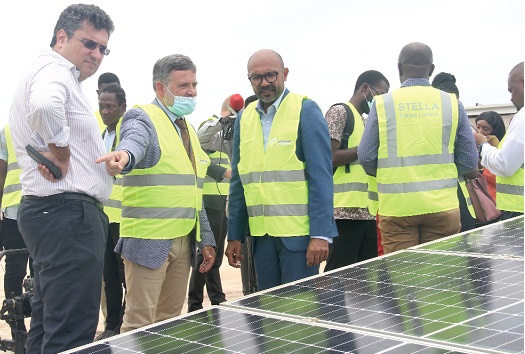 The European Union (EU) Ambassador to Ghana, Irchad Razaaly, has urged local companies to incorporate renewable energy into their energy sources to address their power needs.
He said renewable energy provided cleaner and environmentally friendly domestic electricity and also offered opportunities for the growth of local businesses.
Mr Razaaly was speaking during a visit to Miniplast Limited, a plastic manufacturing company in Accra, yesterday to inspect an EU-funded 704 kWp grid-tied solar photovoltaic (PV) plant, one of the largest private sector power projects in the country.
The visit formed part of the EU Week celebration, which is from May 2 to 9, 2022.
It is on the theme: "65 Years of EU-Ghana partnership."
SDGs
Ghana is a signatory to the UN Sustainable Development Goals (SDGs), the seventh of which includes the attainment of universal access to affordable, reliable and modern energy sources.
Mr Razaaly said the target presented a formidable challenge to Ghana because the country still relied mainly on non-renewable energy sources, although it had a huge potential for renewable energy which was under-exploited.
According to him, the resort of Miniplast to a renewable energy source was an example of the company's effort to create jobs through a sound environmental practice.
"This confirms that EU investment in green initiatives can directly contribute to developing clean energy solutions and the creation of jobs at the local level," Mr Razaaly added.
Significance
The Chief Executive Officer of Miniplast, Nadim Ghamen-Pares, described the initiative as profitable, since it had enabled the company to save 20 per cent of the cost involved in purchasing power.
For that reason, he said, the company was planning to install the plant in the rest of its offices across the country.
"We are looking forward to increasing the size of our solar power generation, so we are extending the project to our factories in Tamale and Kumasi," Mr Ghamen-Pares said.
Background
Miniplast, in 2020, signed a contract to buy a 704 kWp grid-tied solar PV plant to be installed on the factory's roofs at the Spintex Industrial Area in Accra.
The purchase of the plant was through an EU-funded initiative — ElectriFI — which supports Empower New Energy, an impact fund manager.
In Accra, Empower directly supports Stella Futura Limited, the company that designed, built and operates the Miniplast solar plant under a power sales agreement signed among the three partners.
Source: graphic.com.gh