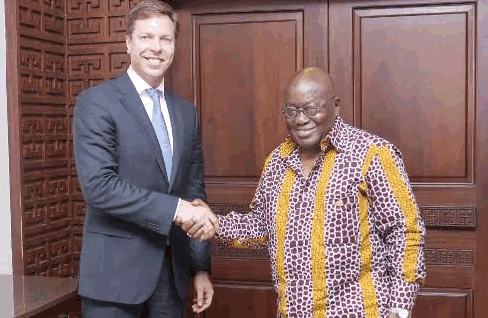 Ghana's sales agreement with Russian energy giant, GAZPROM, for the supply of Liquefied Natural Gas (LNG) will impact the country's economy positively, President Nana Addo Dankwa Akufo-Addo has said.
GAZPROM, a world leader in gas production, has reached and signed a Gas Sales Agreement (GSA) with the Ghana National Petroleum Corporation (GNPC) to supply LNG to enable Ghana shore up its energy security.
The GSA is expected to add some 1000 Megawatts to the country's energy supply after the construction of a regasification plant at Tema.
Speaking to a delegation from GAZPROM that called on him at the Flagstaff House, President Akufo-Addo said the deal was a testament of governments' efforts at putting in place the framework to encourage private sector participation in the growth of Ghana's economy.
He said his government's focus was now centered on improving the nation's power and energy sector, after taking measures to improve the country's fiscal and monetary policy, as well as improve the economic and business climate.
"If we are going to succeed in pushing the industrial development of our country rapidly, the supply of gas to our country is now a matter of very great importance for us," he said.
The President said the agreement, which would save Ghana over a billion dollars, replaced two signed competing contracts for the same Tema LNG project by the previous, which were both considered over-priced and over-sized for Ghana.
He assured GAZPROM that; "All of us are going to do whatever we need to do to make sure that this relationship that we have now begun to build becomes a strong positive and successful one."
Mr Pavel Oderov, the Head of International Business at GAZPROM, said "The signing of the GSA is a very big day for us at GAZPROM. Indeed, we have signed today the second biggest LNG supply contract in our portfolio."
"With GAZPROM producing 11 per cent of the world's gas, we are more than honoured to become a supplier of LNG to Ghana. We are absolutely sure that we will become a reliable partner for the energy industry in Ghana," he added.
Source: GNA