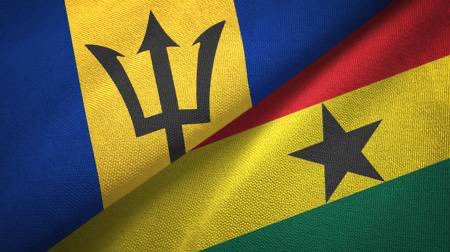 The business communities of Ghana and Barbados have pledged to work together to increase the volume of trade between the two countries from $36,000 per annum to $3.6 billion by the year 2025.
According to survey statistics of products importation between both countries, the numbers revealed that Barbados had positive net Export of $36,000 to Ghana while that of Ghana stood at $3,000.
It was against this backdrop that the business communities of Ghana and Barbados have decided to collaborate to help achieve a balance of trade for the mutual benefit of the two countries.
Meeting
This came to light when a delegation from Export Barbados, a trade and investment agency under the government of Barbados, met with members of the Ghana Union of Traders Association (GUTA) at the Kempinski Hotel in Accra last Thursday.
The meeting was to facilitate trade and investment between the two countries and also in the Caribbeans for the mutual benefit of members of their respective business communities.
Consequently, the two organisations (Export Barbados and GUTA) have put the necessary strategies in place to help achieve the ambitious target of increasing the volume of trade between the two countries for their respective economic growth.
This will culminate in the signing of a Memorandum of Understanding (MoU) between the two organisations in August, this year in Barbados to set into motion this "great idea".
Collaboration
Addressing the media at the meeting, the Chief Executive Officer (CEO) of Export Barbados, Mike Hill, said the goal of the collaboration was to increase growth for the two countries and have balance in foreign exchange flow.
"We want to see double-digits growth for both economies in this particular space so that the two countries will achieve a significant growth," he said.
Mr Hill added that one of the challenges they faced was that there was no direct flight from Ghana to Barbados.
This, he said, was a conversation they were having and had actions in place to create a direct flight between the two countries.
"We anticipate that within a short term, there will be a solution for direct flight, and this is for two purposes; on the top level, it is for passengers while the bottom level is for goods.
This is for traders, and not only tourists, to be able to move their goods and services across," Mr Hill said.
Trade facilitation
The President of GUTA, Dr Joseph Obeng, explained that although the collaboration exists through the history both country share, they want to elevate the collaboration to the commercial state.
Barbados sought to bring trade facilitation to Ghana which will be in the form of organising trade fairs, establishment of electronic trading platforms to enable interaction electronically with counterparts in Barbados, organising exhibitions and exchanging investment-related information from counterparts.
Also, it will provide legal, maritime and aviation advisory to Ghana.
"By so doing, if you want to do business between Ghana and Barbados and to a larger extent the whole of the Caribbean, they are going to advise us on how we can ship our goods, how we can get a very good flight, and what their investment laws are even if you want to establish a business there," he said.
MoU
Dr Obeng disclosed that in order to maintain the commitment to this agreement, a Memorandum of Understanding (MoU) would be signed by both parties in August this year in Barbados.
"We treat this engagement as a call to action to identify what we have, the ability, capacity and availability to trade and improve the lives of our people," Dr Obeng added.
The collaboration, he further said, was very important because it would usher the country into its flagship programme of income in, income out, where it will identify the goods that are made in Ghana and find market in Barbados and vise versa.
He expressed grief over some staples such as gari and items like shea butter and beads that are in abundance in the country but are not exported to Barbados, and they have to import from China.
Dr Obeng therefore urged members of the business community in the country to take advantage of the opportunities that the collaboration would present to export more of the products of Ghana, which have a comparative advantage, to bring in more foreign exchange.
Source: Graphic Online