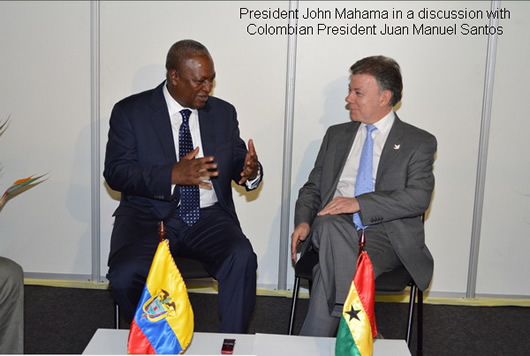 President John Mahama and his Colombian counterpart, President Juan Manuel Santos, met on Monday on the margins of the 7th Session of the World Urban Forum.
The Forum was officially opened by the Colombian leader, with President Mahama delivering the keynote address in his capacity as a designated champion of the African Urban Agenda.
President Manuel Santos expressed his admiration for President Mahama's leadership of the African continent, and thanked him for his support for the recent opening of a Colombian Embassy in Accra.
The two leaders discussed ways of developing further cooperation and mutual support in finding solutions for the common problems that face the two nations, especially in the areas of sustainable development and addressing illegal mining.
President Mahama spoke about how Africa and South America are geographically linked, noting that "the Atlantic should not be a barrier but a bridge between the two continents."
He added that Ghana, with a growing economy and a growing middle class, offers many opportunities for closer partnership with Colombia, for example in developing Public-Private Partnerships to provide mass public transportation systems.
They also discussed lessons that could be learned and applied from the innovative policies that have been successfully applied in transforming Medellin, including skills development and training for youth.
Present during the discussions were the Colombian Foreign Minister, Maria Angela Holguin, Senior Adviser to President Mahama, Alhaji Baba Kamara, Minister for Local Government and Rural Development Akwasi Opong-Fosu, Accra Metropolitan Chief Executive Alfred Okoe Vanderpuije and the Head of Communications at the Presidency, Ben Dotsei Malor.
Source: Daily Graphic