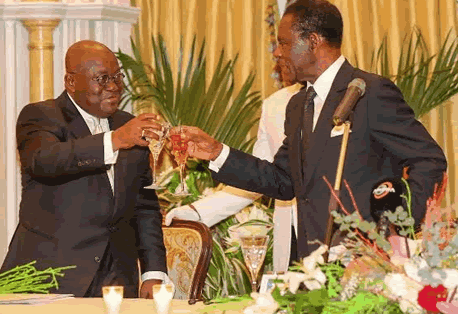 President Nana Addo Dankwa Akufo-Addo said his three-day visit to Equatorial Guinea is to strengthen existing ties and explore areas of co-operation to the mutual benefit of the people.
He noted that for several decades, both nations, at the diplomatic level, had maintained strong relations, adding that he was following in the footsteps of three of his predecessors in the Fourth Republic, who also paid official visits to Equatorial Guinea.
"They have laid a solid foundation for the relations between our two countries, on which, with God's help, I am hoping to help build a bright future of co-operation," he said.
President Akufo-Addo said this at a State Dinner held in his honour by President Teodoro Obiang Nguema Mbasogo of Equatorial Guinea on Monday, at the commencement of his three-day official visit to that country.
With the last meeting of the Permanent Joint Commission of Co-operation between the two countries held in Accra in 2010, President Akufo-Addo expressed the hope that his visit to Malabo would kick-start the re-commencement of formal sessions of the Commission.
The President was, therefore, keen to revive the Air Services Agreement, and re-establish direct flights between Accra and Malabo.
His government, he said, had also committed itself to expanding the Tema Port into a trans-shipment hub, to improve sea trade within Africa.
President Akufo-Addo noted that Equatorial Guinea's proximity to Ghana made her one of the excellent sources for procuring reliable and sustainable Liquified Natural Gas (LNG) to augment Ghana's domestic supply, which would guarantee the country's energy security.
In June 2017, the ministers of Energy of the two countries signed a Memorandum of Understanding (MoU) in relation to the supply of LNG from Equatorial Guinea to Ghana.
"My presence here is a consummation of this bilateral agreement, and represents a significant step towards matching Equatorial Guinea's excess gas supply to Ghana's ever growing demand.
"It is my expectation that during this visit, we shall sign a government-to-government Heads of Agreement for the supply to Ghana of LNG from Equatorial Guinea, for a period of 15years, reviewable every five years. If cocoa was the first seed to nourish the relationship between our two countries, gas is going to be the second," he said.
The MoU provides that Equatorial Guinea will supply the equivalent of 150 million standard cubic feet of natural gas per day to Ghana and the building and operation of an LNG re-gasification terminal in Takoradi.
With Ghana and Equatorial Guinea being two important members of the African Union (AU), President Akufo-Addo said he was willing to do whatever he could to strengthen the AU.
"I believe it is extremely important for the welfare of the 1.2 billion people of the Continent that we, the leaders, demonstrate strong political will to make the AU an economic and political success, and to make the project of integration real. I am fully committed, and I know President Teodoro Obiang Nguema Mbasogo is, too," he said.
President Akufo-Addo noted that with Africa's population set to reach some two billion in 20 years, an African Common Market presented immense opportunities to the Continent.
"The time for African integration is now. Ghana and Equatorial Guinea should be at the forefront of the process that will convert the AU into a true continental market, hence the importance of the success of the Continental Free Trade Area. A working, common continental market has to be a very fundamental objective of all peoples and governments on the Continent," he added.
Source: GNA