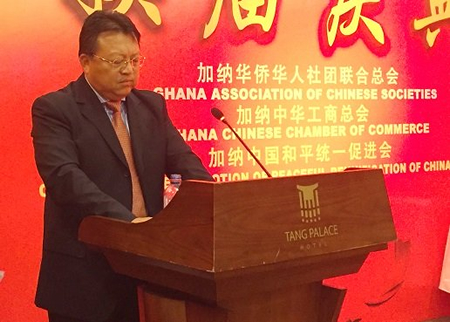 Mr. Tang Hong, Chairman of the Ghana Association of Chinese Associations, says Ghana has distinguished itself as an icon of peace in Africa.
"The Chinese community will always remain grateful to Ghana and its people for the invaluable conducive atmosphere it has provided us over the years," he said.
Mr. Tang said this in Accra, at the commemoration of the 56thAnniversary of the signing of the treaty of friendship between the Republic of Ghana and the People's Republic of China.
He noted that over the past five decades, Ghana and China had been good partners, where the national growth of their respective countries was concerned.
Mr. Tang said peace flourished best, when citizens were uplifted from unemployment, disease, homelessness and illiteracy.
"Our strategic partnership should therefore strive to address these issues to consolidate the peace," he said.
Mr. Tang said members of the Chinese Community in Ghana saw themselves as partners in development, and were ready to cooperate with Ghanaians to create jobs for the unemployed.
He said there was the need for the two countries to be guided by the spirit of the treaty "which has laid the foundation for the development of bilateral relations between our sister countries".
Mr. Tang said as partners in peace and development, cooperation between the two countries could only succeed in promoting mutually beneficial prosperity and development.
"I am confident and hopeful that this 56th Anniversary would offer us greater opportunities for our countries to work even closer together, both at the bilateral and multilateral level, to bring our relationship to a new pedestal in the coming years," he said.
Source: GNA