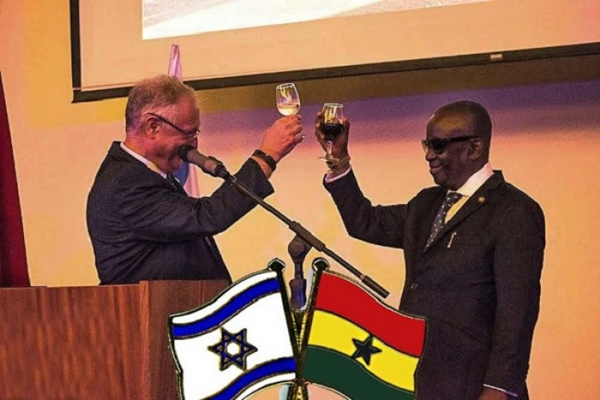 Ghana and Israel have reaffirmed their commitments to boost  relations, with Israel facilitating Ghana's socio-economic development with its expertise in agriculture, communication, cyber security, health and other key areas in a win win situation.
Proposing a toast, at a reception, to mark his country's 70th Independence Anniversary, the Israeli Ambassador to Ghana, Mr Ami Mehl, said:  "Israeli businesses, many of which operate in Ghana, would be happy to share with Ghana the Israeli Technological abilities for the benefit of the whole Ghanaian population."
Responding to the toast, Mr Albert Kan-Dapaah, the Minister of National Security, who led the Government Delegation, urged  Israel to invest in the flagship programmes such as the 'One District One Factory;' 'One Village One Dam' and the 'Planting for Food and Jobs' for  mutual benefits.
Ministers of State, Members of the Diplomatic Corps, the Israeli Community in Ghana and that of the Israeli-Ghana Chamber of Commerce, as well as the Chief of Aburi with his retinue, among other dignitaries, attended the ceremony.
Ambassador Mehl explained that his Government, led by Prime Minister Benjamin Netanyahu, was determined to strengthen and cultivate Israel's relations with Africa.
"One of the peaks of this process is the ECOWAS Summit in Liberia on 4th June 2017. Prime Minister Benjamin Netanyahu declared in his speech that 'Israel is coming back to Africa, and Africa is coming back to Israel'; Israel-Ghana relations are playing an important role in this trend."
The young state of Israel, which was earlier under British Mandate, he said, showed a lot of solidarity with the African countries, which were liberated from the chains of colonialism at that time.
"That led to a flourishing cooperation between the two countries," Ambassador Mehl said.
In 1994 Israel-Ghana relations were renewed and were boosted in 2011 with the opening of an Israeli Embassy in Accra.
"In 2016, we inaugurated Ghana Israel Business Chambers headed by Togbe Afede XIV and its Patron, being Archbishop Nicholas Duncan Williams.  That achievement paved the way to open a Commercial Division in the Israeli Embassy in the upcoming summer."
Ambassador Mehl, who recounted the founding of Israel, which he said, dated to more than three thousand years.
He, however, explained, that the security challenges faced by modern Israel, because of the unwelcoming stance of its neighbours, had compelled it to invest heavily in research and the development in security and defense.
Similar investments, he said, had to be made in agriculture to attain an independent status in food production for its citizens, though about 50 per cent of the land was a desert.
"…In addition, advanced technologies in water treatment were developed, such as, drip irrigation, recycling of sewage water, water purification and sea water desalination," he said.
"Israel became a world class leader, in many fields. Especially noteworthy is its Cyber Technology. Today, the small state of Israel has managed to change within 70 years from a country that is mainly focused on export of oranges to Silicon Valley – a country that exports technological innovations. The state of Israel is has become synonymous with quality."
The University of Ghana Medical Center, 3K Water Project, the Accra Tema Metropolitan Area Rural Water Rehabilitation Project and the Prabon Greenfields Estates – Kumasi are some of results Ghana-Israeli cooperation.
Ambassador Mehl said more fruits were expected to yield in the collaboration, noting, "The visits of many Ghanaian Ministers over the last one and a half years have promoted future collaborations in various domains. We are expecting more official visits soon and I am sure that they will bring up fruitful results.
Mr Kan-Dapaah said Ghana was very grateful for the many scholarships Israel was granting to young people and public officials to pursue key courses in agriculture.
"Since 2016, more than 100 Ghanaians have been offered scholarships to expand their knowledge and skills in irrigation, renewable energy, post harvest techniques, cultivation of arid land, among others."
He said Ghana wished Israel well and was desirous that peace would prevail in its region for the mutual benefits of all the peoples there.
Dela Boti and the Hewale sounds lifted the ceremony with great tunes from flutes and other traditional instruments.
Source: GNA