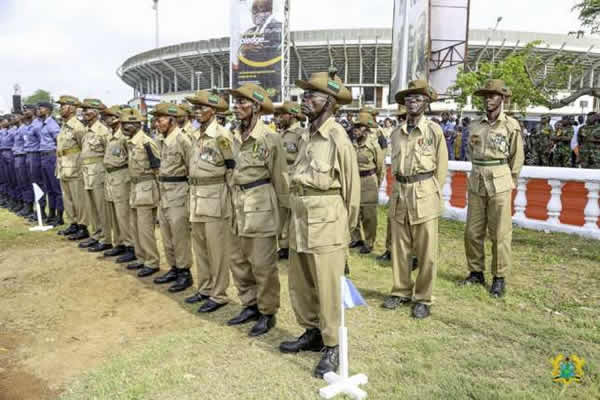 A wreath laying and flag raising ceremony was on Wednesday held at the Nationalism Park, Osu, to commemorate the 70th Anniversary of the shooting to death of three ex-servicemen on 28th February, 1948 at the Christiansburg Crossroads.
The annual event is celebrated to show gratitude to Ex-servicemen, who in 1948 were killed by the colonial police, while marching peacefully to the Osu Castle to present a petition to the then Governor. The Colonial Masters had demobilized them promising to resettle them but had reneged on the promise.
The Vice President Dr Mahamudu Bawumiah laid a wreath on behalf of government and people of Ghana, the Chairman of the Veterans Association of Ghana, Commodore Steve Obimpeh (rtd), laid one on behalf of the Veterans, while the Otublohum Mantse, Nii Dodoo Nsaki II, laid one on behalf of traditional authorities.
Security personnel, students from primary and Junior High School, the public and relatives of the fallen heroes clothed in black and white, gathered to remember the day, amidst solemn hymns from the Ghana Armed Forces Band.
Also present was the Chief of Staff, Madam Akosua Frema Osei-Opare, Ministers of State, and the leadership of both the Ghana Armed Forces and the Ghana Police Service graced the occasion.
On February 28, 1948, Sergeant Cornelius F. Adjetey, Corporal Patrick Attipoe and Private Odartey Lamptey, all members of the Gold Coast Regiment of the Royal West African Frontier Force, that fought alongside the allied forces during the Second World War, were killed while the Regiment was going to present a petition to the then British Colonial Governor, Sir Gerald Creasy.
The ex-servicemen were going to present a petition to the Governor on their unpaid war benefits when they were intercepted at the crossroads by a contingent of armed policemen.
The contingent led by British Police Superintendent, Colin Imray, ordered that they disperse and when they refused to obey, he then fired at the three ex-servicemen killing them instantly
News about the death of the servicemen spread rapidly, leading to a situation where law and order broke down in Accra and other parts of the country.
The Committee recommended self-government for the Gold Coast, which subsequently led to the attainment of political independence for the country on March 6, 1957.
The Actors Guild put together a performance to re-enact the 28th February 1948 Christiansburg Crossroads incidence.
Source: GNA