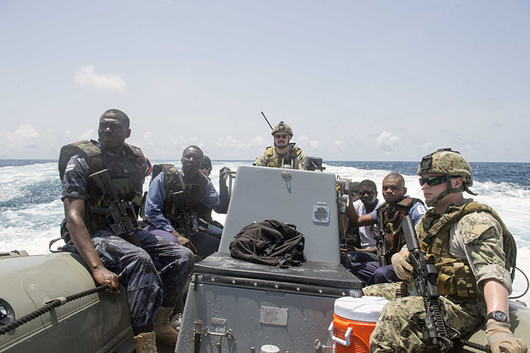 Ghana's Fisheries Enforcement Units and the United States of America Maritime Forces, on Friday, completed a three-week joint maritime law enforcement operation.
The operation was part of African Maritime Law Enforcement Partnership (AMLEP), to improve the professional competences of maritime security agencies in the country.
The training comprised 24 personnel from the Ghana Navy, the Marine Police Unit, the Narcotics Control Board and the Fisheries Commission, which formed part of the operational phase of the Africa Partnership Station (APS) programme.
Addressing the closing ceremony at the Sekondi Naval Base, Commodore Godson Zorwunoo, Flag Officer Commanding the Western Naval Command, said the joint programme had been beneficial to both countries, and enhanced inter agency collaboration.
He said the Fisheries Enforcement Units would patrol  the Ghanaian territorial waters regularly,  to ensure that the knowledge acquired from the training was utilized for the benefit of the citizenry.
Commodore Zorwunoo, also the Garrison Commander, observed that fisheries protection is a of great concern to the nation, since it provides about 60 percent of animal protein intake in the country, therefore a major area in maritime operations.
It also creates jobs for more than four million Ghanaians, especially those at the coastal areas.
However, he said, illegal fishing practices on the high seas had threatened the fish stock, therefore there was the need to adopt proactive mechanisms to protect the fish stock, hence the joint training with the US Law Enforcement Detachment was timely and appropriate.
Commodore Zorwunoo revealed that during the training operations, some fishing vessels and canoes were arrested for fishing infractions, and would soon be put before the law court for prosecution.
Captain Marc Lederer, Mission Commander of the African Maritime Law Enforcement Partnership (AMLEP), said the joint training programme was its maiden deployment, thus serving to enhance the APS programme through exercises and bi-lateral engagements.
He explained that the APS is an international collaborative maritime security capacity-building programme that seeks to improve maritime security by increasing tactical expertise, information sharing and regional co-operation.
The programme was conducted on the US Navy's first Joint high-speed vessel (JHSV) collaboration with the Maritime Operations Centre at the Western Naval Command.
The vessel arrived at the Sekondi Naval Base on March 19, and is expected to depart from the shores of Ghana soon.
Source: GNA