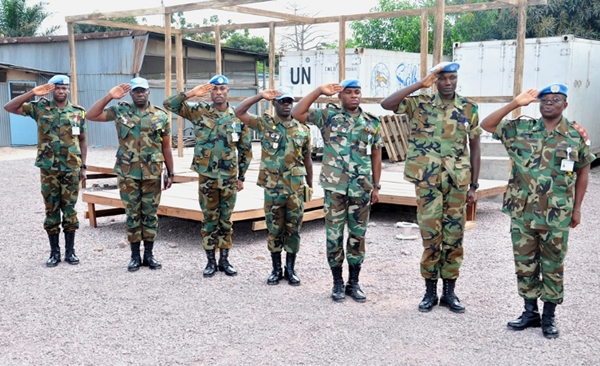 The Ghana Contingent serving with the United Nations Peace Support Mission in the Democratic Republic of Congo (MONUSCO), has held a solemn memorial service in honour of the departed former UN Secretary General, Kofi Annan.
A statement issued to the Ghana News Agency said the ceremony was meant for the troops to show their recognition for the service of the former Secretary General towards global peace.
The death of the former Secretary General of the United Nations Mr Kofi Annan, on Saturday August 18 2018 came as a shock to the entire world.
The ceremony was led by the Commanding Officer, Lieutenant Colonel Bernard Baba Pantoah and troops of the Battalion and Staff Officers of MONUSCO participated in the ceremony at the Ghanaian Battalion (GHANBATT) Headquarters in Kinshasa.
Prayers were said for the soul of the departed Former UN Secretary General.
The Last Post was sounded and this was followed by One Minute of Silence.
The ceremony ended with the sounding of the Reveille after which the UN, Ghana and the GHANBATT Flags were hoisted at half-mast in honour of Mr Annan. The Flags fly at half-mast until Sunday August 26 2018 as a sign of respect to the late Kofi Annan, who is also a noble Statesman of Ghana.
In a tribute, the Contingent Commander and the Commander of Western Sector, MONUSCO, Brigadier General Emmanuel Kotia observed in a tribute that, "Kofi Annan exhibited humility, good humour, courtesy and charm throughout his public life and as a Global Leader for peace, security and sustainable development. He displayed enormous wisdom and strength; and was a role model to aspiring young men and women leaders globally".
Source: GNA