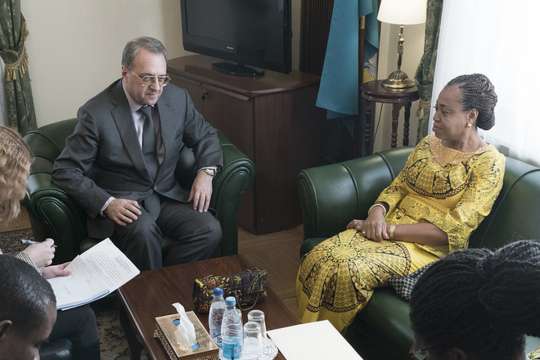 The Russian Deputy Foreign Minister and Special Presidential Representative for the Middle East and Africa, Mr Mikhail Bogdanov, says Russia and Ghana are building stronger economic ties and have identified new areas that could raise the level of economic cooperation.
For instance, he said, through the framework of the Russia-Ghana Permanent Joint Commission for Economic Cooperation, the two countries have pushed forward a comprehensive agenda for strengthening economic cooperation, first and foremost, in their relationship.
Besides, a number of Russian companies have shown keen interest in investing in Ghana and also developing infrastructure in the country.
Mr Bogdanov made the remarks at meeting with Dr Lesley Akyaa Opoku Ware, the new Ambassador of Ghana accredited to the Russian Federation where she presented her credentials and exchanged ideas  on the prospects for the further development of a friendly Russia-Ghana relations.
Dr Opoku Ware stressed on the objective prerequisites for a more extensive political dialogue between Moscow and Accra on current international and African issues, as well as the significant potential for expanding relations in trade and economy, military, technical, humanitarian, cultural and other areas.
Sixty years ago on March 6, 1957, Ghana attained its independence and a year later, established a formal diplomatic relations with the Soviet Union. Ghana and Russia will therefore commemorate 60 years of formal diplomatic relations next year.
Source: GNA