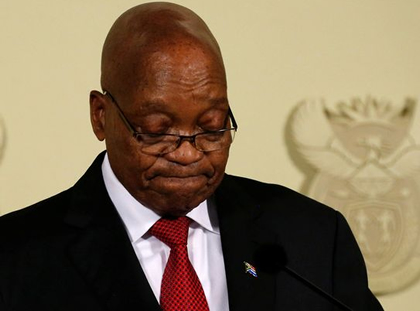 South Africa's former President, Jacob Zuma, is to face prosecution for 16 charges of corruption, Chief Prosecutor Shaun Abrahams has confirmed.
Mr Abrahams said he believed there were "reasonable prospects of a successful prosecution".
The charges – which Mr Zuma denies – include counts of fraud, racketeering and money laundering.
Mr Zuma, 75, was forced to resign as president last month by his party, the ruling African National Congress (ANC).
He was facing his ninth no-confidence vote in parliament before he left office.
The charges relate to a 30bn rand ($2.5bn; £1.7bn) government arms deal in the late 1990s, before he became president.
Mr Zuma is alleged to have sought bribes from a French arms company to support an extravagant lifestyle. His financial adviser at the time was found guilty of soliciting those bribes in 2005 and Mr Zuma was later sacked as deputy president.
He now faces one charge of racketeering, two charges of corruption, one charge of money laundering and 12 of fraud.
Shaun Abrahams, head of the National Prosecuting Authority, said a trial court was the appropriate place for the matter to be decided.
He dismissed representations made by Mr Zuma asking that the charges be dropped.
The former ANC chief had argued that the charges against him were characterised by misconduct, "irrational behaviour" and media leaks on the part of prosecutors, Mr Abrahams said.
Mr Zuma has always denied the allegations against him.
Mr Zuma weathered an array of corruption allegations during his nine years in power.
In 2016, a report by South Africa's anti-corruption watchdog alleged that the billionaire Gupta family had exploited their ties with him to win state contracts.
Both the Guptas and Mr Zuma deny any wrongdoing.
The same year, South Africa's highest court ruled that Mr Zuma had violated the constitution when he failed to repay government money spent on his private home.
An anti-corruption body found he had spent $23m (£15m) on refurbishments including a swimming pool and an amphitheatre. He has since repaid some of the money.
The controversial arms deal
In 1999, the South African government announced its largest-ever post-apartheid arms deal, signing contracts totalling 30bn rand ($5bn; £2.5bn) to modernise its national defence force
The deal involved companies from Germany, Italy, Sweden, the UK, France and South Africa
Allegations of bribery over the deal dogged the governments of both President Jacob Zuma and and one of his predecessors, Thabo Mbeki.
Schabir Shaik was found guilty in 2005 of trying to solicit a bribe from Thint, the local subsidiary of French arms firm Thales, on behalf of Mr Zuma. He was released on parole on health grounds after serving just over two years
Another official, Tony Yengeni, who was chairman of parliament's defence committee at the time of the deal and chief whip of the ANC, was convicted of fraud in 2003. He was also freed on parole after serving five months of a four-year sentence.
Source: BBC