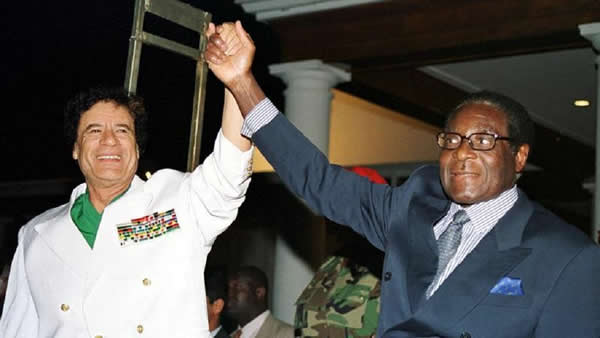 George Charamba, former spokesperson for Robert Mugabe says there was fear that Mugabe's last days will be like that of ex – Libyan leader Muammar Gaddafi, a Zimbabwe news portal, Daily News reported over the weekend.
According to him, at the height of the mediation effort to get Mugabe to step down, it dawned on the mediating party that with the army not ready to turn their guns on the protesting masses, the 93-year-old could be hurled out by a mob.
"There was the possibility of the Libyan scenario where the president would have been dragged out of the Blue Roof (Mugabe's residence) and lynched. It was going to be possible because the soldiers said 'we cannot turn our guns on on civilians who are marching against the president and spill blood,'" he added.
He adds that the army tasked the mediators to get the adamant Mugabe to appreciate the gravity of the call for him to leave power. The army had announced a takeover of political power in November 2017 but refused to call it a coup.
Mugabe held on for a little over a week before submitting his resignation to a joint sitting of the parliament, at a time they were getting ready to impeach him. People – home and abroad – broke out in jubilation when the speaker read out his resignation letter.
Gaddafi – a friend of Mugabe, was killed in 2011 in his hometown of Sirte by rebel forces. A NATO-backed rebellion had forced Gaddafi to abandon his presidential palace and seek refuge in Sirte. Rebels found him and shot him.
The country has since been in chaos with different governments holding seperate territories. The United Nations backed government in Tripoli only last year managed to drive out Islamic State militants from Sirte. Elections are due this year but a firm date has yet to be announced.
Source: Africa News