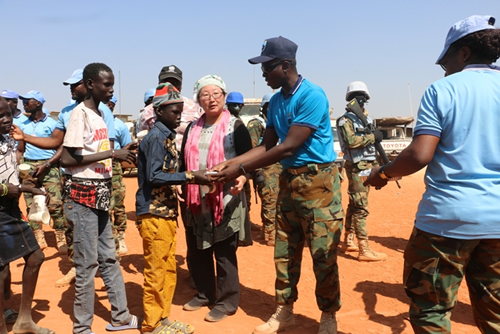 Ghanaian Peacekeepers serving with the United Nations Mission in South Sudan has organized "fun-day" for displaced children in a protection site in Bentiu.
The Ghanaian Peacekeepers took this nimble and playful, yet robust initiative to engage with hundreds of boys and girls as a way of encouraging healthy social interaction.
A statement to the Ghana News Agency in Accra noted that fun-day was also part of efforts to strengthen relationship between peacekeepers and part of the displaced persons they are there to protect.
The children participated in different activities, including musical chairs, running as fast as possible with an egg on a spoon and a dance competition.
Master Peter Koang Gatkek, a 14-year-old boy, who sought shelter at the UN base in Bentiu, in December 2013, and has stayed there since then, expressed gratitude on behalf of the other children.
"There is no way that I can express my happiness to those who are protecting me here, but I want to let them know that their work is commendable.
"We the children of the protection site are very happy today, we are united and we get to meet new friends from different blocks and sectors of the site," he said.
Lieutenant Colonel Andrews Oduah, the Commanding Officer of the Ghanaian Battalion in Bentiu, encouraged the children to take education seriously and stay away from trouble.
"We want you to respect your parents, make sure you go to one of the schools set up for you, because you are the future of this country and if you learn a lot you will become very good adults," he said.
Hiroko Hirahara, the Head of the UN mission's field office in Bentiu, urged the children to be beacons of hope and peace.
Source: GNA