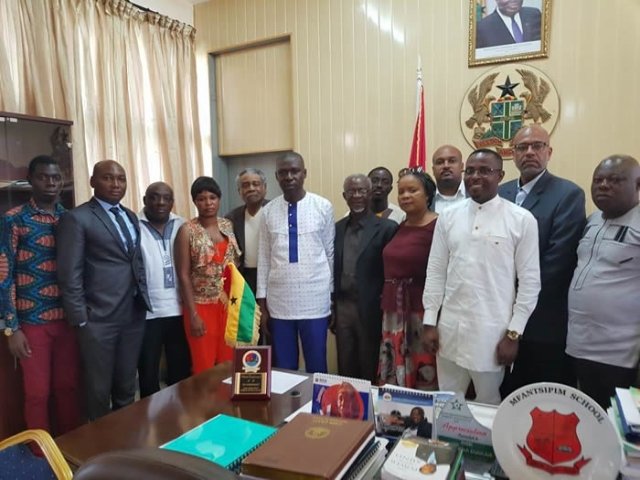 Investors from the United States of America have arrived in Cape Coast, the Central Region capital, to explore viable areas for business.
The founder of United States-based Top Construction Firm Douchette & Associates Contractors (DAC), Mr Doucette Sterling, and business partners Donnie Marcus Bradford and David Jason Bradford have expressed strong interest in investing in Cape Coast to open up the city to the world.
The group has so far identified tourism and real estate development as some of the major areas for their investment.
The Founder of DAC, Mr Sterling Doucette, made this known during the delegation's tour of Cape Coast to explore investments opportunities in the Capital City of the Central Region.
The group came to Cape Coast upon the invitation by the Metropolitan Chief Executive of Cape Coast, Ernest Arthur, to assess the business climate in Cape Coast and also identify viable sectors for investment.
The visit was coordinated by US-based Ghanaian Bishop Stanford Esilfie and Mr Kojo Ampah, Chief Executive Officer of Adepa Africa Investments.
While in Cape Coast, the delegation paid a courtesy call on the Central Regional Minister, Kwamena Duncan, and the Paramount Chief of the Oguaa Traditional Area, OsaberimaKwesi Atta II where a number of business proposals were tabled for onward action.
The Central Regional Minister, Kwamena Duncan and the Metropolitan Chief Executive of Cape Coast, Ernest Arthur led the investors to tour some areas in Cape Coast including the Cape Coast Tourism Enclave and the Fosu Lagoon Area.
The MCE for Cape Coast expressed his delight at the collaboration and promised to work to actualize all the business proposals and the areas earmarked for investment purposes.
"It is refreshing to have them here. We've had very fruitful discussions and I am hopeful that the people of Cape Coast would see the fruits of what we have started planting," he confidently assured.
Touching on what the team discovered in Cape Coast, Mr Doucette said they were impressed with the business environment and opportunities in Cape Coast, indicating that he intends to invest in both tourism and the real estate sectors.
"The three-member delegation's visit to Ghana is the outcome of my presentation on Cape Coast viable business environment when we visited the US last year," Hon. Ernest Arthur said.
He said there were a lot of investment opportunities in the Cape Coast for expatriates to take advantage of, adding: "When I realized I could court US investors to Ghana, we embarked on an Investments and Promotional Tour to the US. I invited them to come and have first-hand knowledge about Cape Coast".
Others on the tour were the Metropolitan Coordinating Director, Mr. Sampson Amoako Kwarteng, the Investments Coordinator and Public Relations Officer of the Assembly, Mr. Richmond Yeboah.
Source: Joy News