Thursday, June 1, 2017– Delegates of the Young Diplomats of Ghana (YDG) hosted a farewell dinner last week at the Tomreik Hotel in Accra in honor of the UNAIDS Country Director, Mr. Girmay Haile, who ends his duty tour to Ghana at the end of June this year.
The dinner offered the opportunity for the young diplomats to have a final interaction with Mr. Girmay, on his experiences working as a Diplomat in Ghana and to congratulate him for his selfless dedication to the vision of UNAIDS in Ghana and support for the cause of YDG as Patron.
In his remarks, Mr. Haile, who has been the UNAIDS boss in Ghana for the past five years was full praise for Ghanaians and mentioned that Ghana has become a home for him and his family.  In his words, "Ghanaians at the individual level are high quality people, collectively; very peaceful people, full of smiles and proud of their identity".
In sharing his experiences with the young diplomats, the UNAIDS boss was excited about the transformation of the country into an advanced economy and urged the young diplomats to take advantage of the economic growth,  to soar higher as aspiring leaders and diplomats despite the challenges that may come with it.
He urged them to be proud of their Ghanaian identity, always keep the interest of the country in mind and also understand themselves as individuals and as a group, to be able to be extraordinary in their accomplishments and also to make an impact on the development of the country as young people.
The outgoing UNAIDS Country Director also urged the young diplomats to approach their daily activities with confidence and also be sensitive about the confidence level of others as this is a great means of breaking barriers and being successful in all endeavors.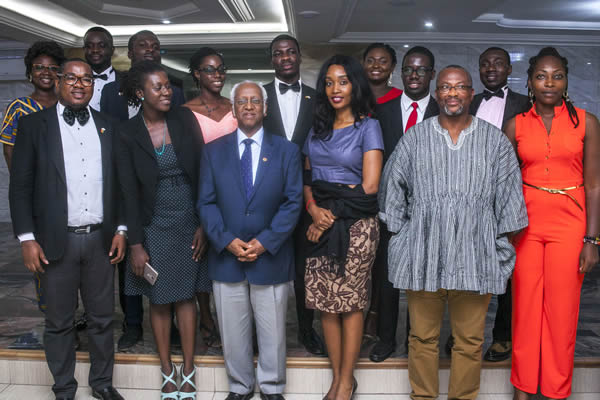 Mr. Kordzo Sedegah, an Economics Specialist with the UNDP Ghana who was a Special Guest at the dinner commended Mr. Haile for his hard work and dedication to work. He particularly admired the UNAIDS boss for his friendliness and ability to quickly adapt to the Ghanaian environment and circumstances.
Mr. Sedegah further presented a magnificently framed picture of the YDG Delegates with Mr. Girmay Haile taken at an earlier meeting as a gift to him, on behalf of YDG.
Also present at the dinner were staff and executives of the International Perspective for Policy and Governance (IPPG) and Diplomatic Call, the mother organization of the Young Diplomats of Ghana group.
The Young Diplomats of Ghana (YDG) is a registered non-governmental and non-profit network that seeks to advance the development of a new generation of aspiring leaders and diplomats in Ghana, and to build their advocacy experience.
Mr. Haile's heads to Zimbabwe from Ghana to head the UNAIDS country office.