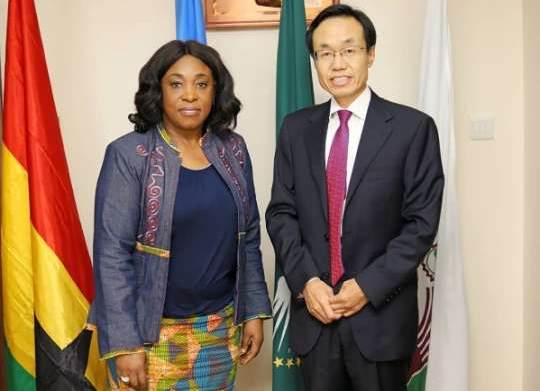 China will continue to support Ghana's economic development initiatives, such as "One District One Factory, One village One Dam and Planting for Food and Jobs, Mr. Shi Ting Wang, Ambassador of China to Ghana has said.
Speaking at a welcome reception at the weekend in Accra, the Chinese Ambassador noted that China would also support Ghana to build an economic system beyond aid.
Mr. Shi Ting Wang said the government of President Nana Addo Dankwa Akuffo Addo, had shown great commitment to building stronger Ghana-China relations, characterised by a number of high level visits and exchanges of mutual gains between the two countries.
The Ghana-China relations went as far back as when President Kwame Nkrumah forged a "profound" friendship with the then leaders of China, including Chairman Mao Zedong and Premier Zhou Enlai.
"Forty six years ago, former President John Agyekum Kufuor, who was then a Deputy Minister of Foreign Affairs, voted to support the restoration of China's legitimate seat to the UN," he recalled.
He observed that: "China will never forget that since the establishment of the diplomatic ties between the two countries 58 years ago, the traditional friendship has grown from strength to strength."
He noted that currently, China remained Ghana's largest trading partner and main source of foreign investment.
The Chinese Ambassador explained that in 2017, the bilateral volume of trade between the two countries reached 6,675 billion US Dollars, registering a year on year growth of 11.69 percent, and ranking Ghana seventh among all African countries.
He said Ghana's exports to China also increased by 41.3 percent last year, and China's non financial direct investment to Ghana reached 3.213 billion US Dollars by the end of 2017.
Other areas he mentioned included the health, aviation and road sectors, as well as infrastructural development.
"Let us join hands and write a new chapter of the common development of China and Ghana," the Chinese Ambassador said.
Madam Shirley Ayorkor Botchwey, Minister of Foreign Affairs and Regional Integration, said the people of Ghana had resolved to walk hand in hand with China, "with the shared vision of creating prosperity for our peoples".
She noted that the government and people of Ghana were highly appreciative of the tremendous financial and material support extended by the government of China in support of Ghana's socio-economic development.
She also said Ghana was committed towards enhancing political, economic and socio-cultural ties between the two countries.
"It is my hope that Ghana will continue to enjoy the support of China in its developmental efforts, and I look forward to working closely with you towards the achievement of this all important objective, for the mutual benefit of our two peoples."
Source: GNA