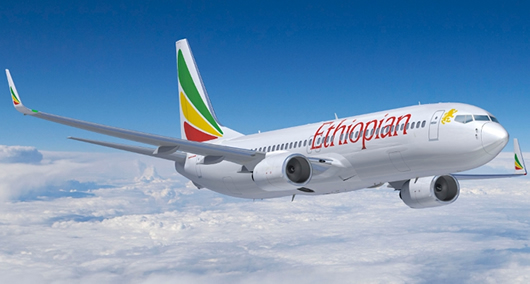 Africa's largest airline group, Ethiopian Airlines, has won the African Aviation 'African Airline of the Year' Award for 2017, for the second year in a row, during the 26th Annual Air Finance Africa Conference & Exhibition held in Johannesburg, South Africa.
A statement issued in Accra by Mrs Hanna Atnafu, Manager Corporate Communications, and Ethiopian Airlines said the award was presented to Airline in recognition of its continued rapid growth, increased profitability and its outstanding contribution to aviation development in Africa.
Mr Meseret Bitew, Acting Chief Financial Officer, Ethiopian Airlines, said: "We are pleased to win the 'African Airline of the Year' Award for the second time in a row; a testimony of our commitment to serve our beloved continent Africa."
He said the commendable success of Ethiopian Airlines attributed to the visionary leadership of management and the hard work of thousands of employees, who work hard around the clock with unity of purpose.
"Mobility and air connectivity being the economic engine of growth and development, we shall continue to play vital roles in connecting African countries with their major trading partners around the world and realize an economically liberal Africa," he added.
Mr Nick Fadugba, the African Aviation CEO, announcing the Award said:
"In the past 12 months, Ethiopian Airlines has further expanded its route network, modernized its fleet, inaugurated three new aircraft maintenance hangars, as well as a new world-class in-flight catering facility and has strengthened its airline joint ventures in Africa."
He said the Airline had in addition achieved a record financial turnover and profitability in spite of various industry challenges.
Currently, the airline is well on track to exceed the goals of its Vision 2025 Strategy.
Ethiopian is a multi-award winning airline: Airline of the Year Award, for the fifth consecutive year, by African Airlines Association (AFRAA), SkyTrax World Airline Award for Best Airline Staff in Africa, Best African Cargo Airline of the Year Award, and Passenger Choice Award for Best Airline in Africa are few to mention.
Source: GNA