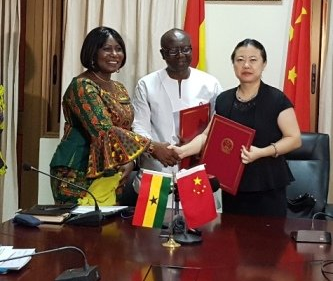 Ghana and China have signed agreements totalling $66 million to support the Jamestown Fishing Port Complex and the implementation of projects, including the second phase of the University of Health and Allied Sciences.
Under the Bilateral Agreement, the Government of the People's Republic of China is providing a grant of about $16.0 Million to Ghana for the implementation of projects including the Phase 2 of the University of Health and Allied Sciences.
As regards the Exchange of Notes on Jamestown Fishing Port Complex, China is providing an amount of about $50 million for the implementation of the Project.
The project is in three major parts, involves the dredging (about 118,000 cubic meters) harbour basin and shipping channels; construction of hydraulic structures (about 1,200 meters) composed of berths, Seawall and a break water; and construction of administration, production and supporting facilities, including an office building, kindergarten, trading market, processing area, commercial area and other production and supporting facilities.
The project is expected to enhance the productivity of the fisher folks and create about 1,000 job opportunities for the teeming youth in the community.
Finance Minister Mr Ken Ofori-Atta signed for Ghana and Madam Sun Baohong initialled for China.
Mr Ofori-Atta said the signing marked another important milestone in the bilateral economic relations between Ghana and the People's Republic of China as it reaffirmed commitments and determination to broaden and deepen the bilateral cooperation between the two countries.
He said Ghana currently was at a stage in its development trajectory that required massive investments.
"Indeed, if we are to achieve this aspiration, there is the need for that critical mass of resources to push the economy beyond aid right from the onset of the implementation of strategies to get there," he said.
Mr Ofori-Atta said government was striving hard to ensure macroeconomic stability that would help create the enabling environment for accelerated economic growth to catapult Ghana beyond aid.
On her part, Madam Sun said China and Ghana have been very important development partners, saying bilateral trade between Ghana and China last year reached 6.67 billion US Dollars and it ranked sixth among 54 African countries.
"China is Ghana's largest trading partner and what is worth noting is that Ghana's export to China surpassed 1.85 billion dollars and registered an increase of over 41 percent," she said.
Last year, China's financial investment in Ghana reached $123 million and they have invested in 25 projects, the number of the projects ranked top among all the foreign investment countries.
Madam Sun said China 80 satellite TV project to 300 Ghanaian villages would be implemented in May while the James Town Fishing Port Complex would kick off within this year.
"We are doing feasibility studies on the phase two of University of Health and Allied Sciences now and we are going to do the feasibility for Cocoa Processing Project in Sefwi Juaboso, and we have begun the implementation of donation of police vehicles and equipment," she said.
She said China fully supported Ghana Beyond Aid initiative of the government and we wish that this aspiration will be realized with the help of international partners.
Source: GNA