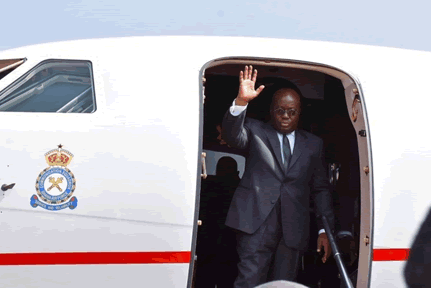 President Nana Addo Dankwa Akufo-Addo on Monday left Ghana for a three-day official visit to the Republic of Zambia.
The visit is at the behest of his Zambian counterpart, President Edgar Chagwa Lungu.
President Akufo-Addo is expected to hold bilateral talks with President Lungu, aimed at deepening the bilateral ties between the two countries, as well as exploring other areas of co-operation to the mutual benefit of the two nations.
Whilst in Zambia, the President would visit Ndola, a city in Zambia's Copperbelt Province, where he would be the Special Guest of Honour at the 53rd Zambia International Trade Fair.
He was accompanied by the First Lady, Mrs Rebecca Akufo-Addo, Foreign Affairs Minister Shirley Ayorkor Botchway, and officials of the Presidency and the Foreign Ministry.
President Akufo-Addo and his delegation are expected back in Ghana on Thursday, June 29, 2017.
Source: GNA