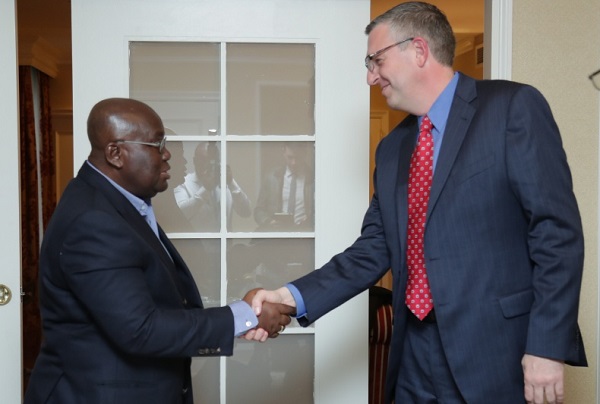 President Nana Addo Dankwa Akufo-Addo has received international commendation for his leadership role in finding a lasting solution to the political crisis in Togo.
Acting Chief Executive Officer of the Millennium Challenge Corporation (MCC), Mr. Jonathan Nash, who called on the President in Washington DC, said the MCC was elated that the Togolese impasse would be resolved to enable the organisation's developmental programmes in that country to continue.
He explained that the Corporation had to postpone an investment it was considering in Togo because of the crisis.
"Last fall, we finalised preparations for this programme (in Togo). It is a threshold programme, which is smaller than the Compact. However, given the challenges on the ground, and the unfolding political situation, our board of directors decided to postpone approving the programme.
"One of the things we were looking for was the launch of a dialogue. Because of your leadership, and what you have done on the ground, we are now prepared to take this investment to our Board of Directors in the coming weeks. Assuming that things continue to move in a positive direction, hopefully our board will approve it, and we can begin an investment to Togo," he said.
"On behalf of the MCC, we want to thank you for your leadership," Mr Nash added.
President Akufo-Addo told Mr Nash that it was in Ghana's interest that there was peace and stability in Togo.
He was hopeful that a solution would soon be found to the crisis in Togo, so that peace, stability, the consolidation of democracy and the rule of law, would realise, as demanded by the Togoleae people.
President Akufo-Addo arrived in Washington DC on Saturday ahead of the Winter Meeting of the National Governors Association of the United States of America, where he is billed to speak.
The President would become the first African leader to address the 50 US Governors at an NGA meeting.
Source: GNA