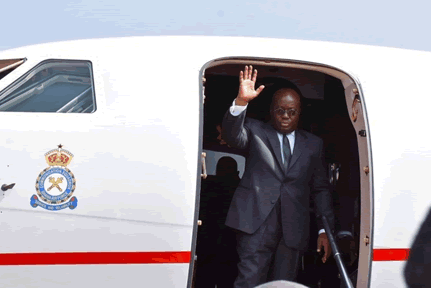 President Nana Addo Dankwa Akufo-Addo left Accra on Thursday night as head of Ghana's delegation to the People's Republic of China on a state visit.
The visit, which is at the invitation of the Chinese leader, Xi Jinping, is to deepen the strong ties between the two countries, as well as explore other areas of co-operation for their mutual benefit.
President Akufo-Addo would also attend the 3rd Summit of the Forum on China-Africa Co-operation (FOCAC) and address an investment forum of Ghanaian and Chinese business leaders, to be held in Shangdong Province of China.
Meanwhile, the Rwandan President, Paul Kagame has invited President Akufo-Addo to participate in the African Green Revolution Forum (AGRF), being held in Kigali on the theme "Lead, Measure, Grow: Enabling new pathways to turn smallholders into sustainable agribusinesses", from September 6 to September 7, 2018.
The President would return to Ghana on Saturday, September 8, 2018.
Source: GNA