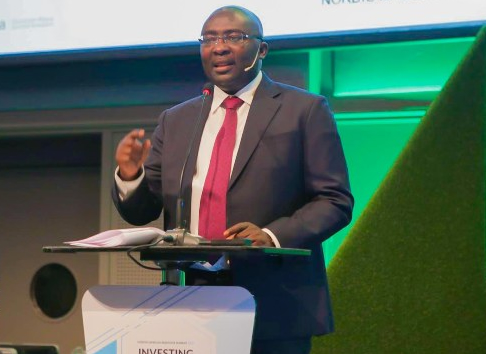 The Vice President, Dr Mahamudu Bawumia, on Thursday, urged the German business community to explore various partnerships for investments with their Ghanaian counterparts, assuring them that Ghana is a safe and fertile haven for investments.
Addressing members of the German business delegation, who accompanied German Chancellor Angela Merkel for a State Visit, Dr Bawumia said the Government's ambition of moving Ghana beyond aid could be realised by leveraging on private sector partnerships and growth.
In furtherance of this, he said since the assumption of office some 18 months ago, it had instituted the necessary framework to create a conducive environment for investments and trade.
The Vice President explained that the Government had managed to stabilise the macro-economy, noting that, the budget deficit had been reduced from 9.3 per cent in 2016 to 5.9  per cent in 2017,while the balance of payment was positive.
On  some of  the opportunities available, Dr Bawumia said programmes, such as Planting for Food and Jobs and One District-One Factory would help create jobs for the teeming unemployed youth.
There was also the need to add value to Ghana's export commodities and natural produce to maximise the profits.
Additionally, Dr Bawumia said the Government had embarked on various reforms, including the adoption of a National Digital Property Addressing System; the on-going National Identification System; Mobile Money Interoperability Payment system; and the Smart Driver Licensing regime towards formalising the economy.
He said those programmes would enable the Government to identify every taxpayer and to mobilise the requisite financial resources for socio-economic and infrastructural development.
It had also planned to introduce a Cash-lite Payment System to be captured in the next  Budget Statement, which would be presented to Parliament in November.
With this,  in 2019, all payments for government services would be done through digital payments.
Thus, contractors who would execute public projects would be paid digitally to fast-track payment and to ensure efficiency and transparency.
The Government was making efforts to introduce paypal in February next year, to also facilitate digital payments.
It would also implement a digital system at the Lands Registry by using block-chain technology for security purposes.
The German delegation would take part in a business dialogue on the  Compact with Africa Initiative, at the Kempinski Gold Coast Hotel.
Ghana stands to gain some 100 million Euros under the Compact to revamp its energy and financial sectors.
The  dialogue will discuss  bilateral reforms and investment partnerships and the general business environment in Ghana.
Source: GNA