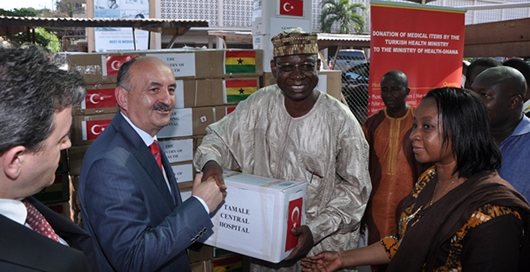 The Turkish Government on Wednesday donated medical items worth 99,210 dollars to the Ministry of Health (MOH) in Accra for onward distribution to some hospitals in the country.
The beneficiary hospitals are the 37 Military, Gushegu District and the Tamale Teaching Hospitals.
Mehmet Muezzinoglu, Turkish Minister of Health, made the donation to the MOH after attending the fourth session of the Joint Economic Meeting between Ghana and Turkey in Accra.
He said the medical devices donated are mainly to cater for new born babies and other intensive care services, to help strengthen the health care delivery system.
He said there is a high level bilateral relationship between Ghana and Turkey, and the government of Turkey would continue to provide assistance to Ghana, and said special training would be given to students in the medical field, as well as other civil servants.
Muezzinoglu assured that the government of Turkey would be building seven new hospitals in the country, and refurbish other two through the Turkish Exim Bank, to further boost the healthcare needs of the people.
Dr Alfred Sugri Tia, Deputy Minister of Health, commended the Turkish government for the donation.
He said the government of Ghana would continue to co-operate with the Turkish government, to further enhance their bilateral relations.
Dr Tia assured that the medical equipment would be handled with care by the health professionals, in order to help reduce both maternal and child mortality in the country.
Some of the items donated were Phototherapy Machine, Video Assisted Laryngoscope, Infusion Pump, Pulse Oxymeter and Oxygen Concentrator.
The rest were Versatile Pulse Oxymeter, Sphygmomanometer, Truphatek Laryngoscope, Bookwalter Retractor and Handheld Doppler ultrasound.
Source: GNA