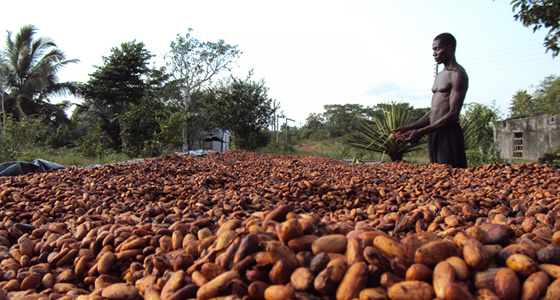 Mr Joseph Boahen Aidoo, the Chief Executive Officer of COCOBOD, says Ghana has taken urgent steps to stop the spread of the Cocoa Swollen Shoot Disease as a measure to improve yields for greater returns.
He said about 680,000 hectares of infected farms would be affected although the COCOBOD would begin with an initial 10,000 nationwide with specific focus on the Western and Eastern regions.
The move formed part of a joint action between Ghana and Cote D'Ivoire to cut down 780,000 hectares of cocoa trees infected with the Swollen Shoot Virus to control its spread across the borders.
Mr Aidoo, addressing cocoa farmers from both countries at the launch of the exercise at Pillar 34, a border town in the Western Region, said the leadership of the two countries saw the joint action as an inevitable remedy to the spread of the disease, regarding the high degree of cross-border transfer of the vector.
Though Ghana cuts 10,000 as the first step, Cote D'Ivoire starts with 100,000 hectares and with funding support from the African Development Bank, the two countries are expected to aggressively tackle the menace to enhance sustainable and improved cocoa production for both local and foreign consumption.
Mr Boahen Aidoo said out of about 40 per cent unproductive cocoa tree stock in Ghana, 17 per cent was affected by the diseased, thereby contribute to the reduction in farm yield with its resultant economic harm to farmers.
He implored cocoa farmers to cooperate with trained agriculture extension officers from the COCOBOD to ensure the successful implementation of the programme.
"Government is prepared to give some compensation to affected farmers and their landowners for the first three years of the implementation to cushion them over any loss arising from the programme," he said.
They would be provided with free food crops like plantain stocks as an alternative livelihood until the new cocoa seedlings planted reaches the harvest stage.
Mr Boahen called on all stakeholders, particularly landowners, to own the programme and see it as national response to deal with an imminent disaster, which may affect the socio-economic fortunes of the country.
The Director General of Le Conseil du Cafe-Cacao, Mr Kone Ibrahima, lauded the presidents of the two countries for effectively collaborating to nip the disease in the bud.
He recounted how the bond of friendship between the two had grown stronger in recent times, especially in the area of cocoa production.
Ghana and Ivory Coast contribute over 60 per cent of the global market stock of cocoa.
Mr Ibrahima called on the chiefs, opinion leaders, security personnel and farmers to work together to achieve the purpose of the joint venture.
There was a demonstration on the cutting of infected cocoa trees at Pillar 34 and Manzanouan.
Source: GNA