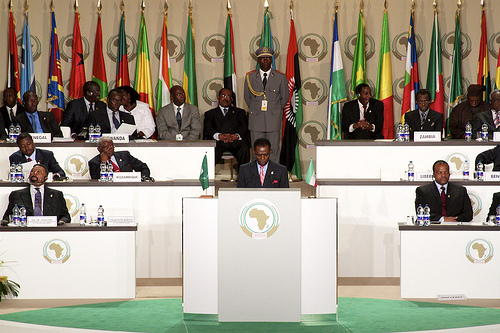 The subject of agriculture and food security of Africa will dominate the agenda for the 23rd Ordinary Session of the Assembly of members of the African Union (AU), scheduled to take place in Malabo, Equatorial Guinea from June 20 to 27, 2014.
The summit, dubbed "Agriculture and Food Security", would seek to harness opportunities for inclusive food growth and sustainable development as part of concerted efforts towards achieving the first Millennium Development Goal (MDG) of attaining food and nutrition security and poverty reduction on the continent.
Ahead of the summit, Ministers responsible for agriculture, rural development, fisheries and aquaculture at a joint conference in Addis Ababa on April 28, called for an inclusive and interactive dialogue on the transformation of Africa's agriculture for shared prosperity and improved livelihoods.
Mr. Bukar Tijani, Assistant Director General and Regional Representative for Africa, Accra, who attended the meeting, described Africa as a rising continent with seven of the fastest growing economies in the world and further underscored the need for pragmatic measures in dealing with the problem of food insecurity which is widespread on the continent.
"We Africans were cited as the dying continent because 32% of our population suffered from undernourishment. Today, the prevalence is less than 25%, signifying that we have collectively made commendable steps underpinned by good leadership reversing the view" he said.
He further explained that "ending Hunger is not some elusive concept. It is achievable as has been done in a number of countries…and this should be a strong message to Malabo, at the forthcoming AU Summit dedicated to Agriculture and Food Security".
Expressing FAO's commitment to the cause of ensuring food security in Africa, Mr. Modibo Traore, FAO Representative to the African Union/UNECA/Ethiopia and sub-regional coordinator in Eastern Africa, revealed that the FAO, in correspondence to AU's theme of the year "Agriculture and Food security", has also prioritized eradication of hunger in Africa in its 2014/2015 action plan, entitled "Renewed Partnership for a Unified Approach to End Hunger in Africa by 2015".
According to him, the FAO seeks to respond to country requests for support by adding value to or filling gaps in on-going projects and by identifying concrete windows of opportunity to promote an integrated approach to improving food security and nutrition.
In line with the AU theme of the year, a side event on African Agribusiness Forum is scheduled for June 22, 2014 to build on a series of consultations bringing out critical agribusiness issues aimed at translating political commitments into concrete action, and to accelerate agricultural transformation as an engine for inclusive growth and private sector investment in agriculture.
Dr. Dlamini Zuma is due to address the opening session of the Permanent Representatives' Committee on Friday 20 June, alongside H.E. Hamadi Meimou, Mauritania's Ambassador to Ethiopia and Permanent Representative to the AU. The 23rd Ordinary Session of the Assembly of members of the African Union (AU) is being hosted by the President of Equatorial Guinea, H.E. Teodoro Obiang Nguema Mbasogo.
By: Prince Asare, Diplomatic Call.