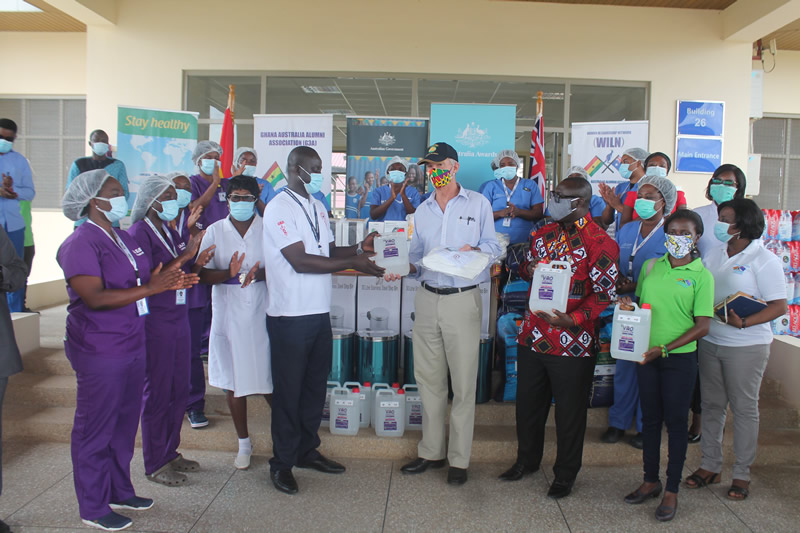 The Australian High Commission has donated items worth GH¢50,000 to support the frontline health workers at the Ga East Municipal hospital and to support the national COVID-19 response efforts.
The items donated included essential medical supplies, personal protective equipment and assorted food items for use by staff and patients at the hospital.
The donation was done in partnership with the Ghana Australia Alumni Association, a group of Ghanaian beneficiaries of Australian funded scholarships.
The Association further handed over a cheque of GH¢10,000 to the hospital.
Save lives
Handing over the items to the hospital on Wednesday, June 17, 2020, the Australian High Commissioner to Ghana, Mr Andrew Barnes said the donation was an opportunity for the commission to contribute towards complimenting the hospital's limited resources as it worked to save more lives.
This, according to him was in line with the Australian Government's commitment to help improve health and sanitation outcomes in Ghana, particularly for women, children and the vulnerable.
Mr Barnes further commended the government of Ghana for effectively managing its COVID-19 cases adding that "this is because of the urgent decision by the government to lockdown early and this is very exemplary considering the low rate."
He also commended the Australian alumni community for their contribution to the donation exercise which, he said, exemplified the ideals of leadership and service that an Australian education espouses.
Commendation
The Medical Superintendent of the Hospital, Dr Ebenezer Oduro-Mensah expressed gratitude to the commission for expressing sympathy and supporting the hospital with the items stating that the items were essential to the fight against the coronavirus pandemic.
He further mentioned that the recovery rate in the hospital has increased to 70 per cent adding that the hospital was ready to provide the necessary support and care to their clients.
Dr Oduro-Mensah advised the general public to continue to observe the social distancing protocols and the precautionary measures in order to help curb the further spread of the virus.
He called on corporate Ghana to support other COVID-19 centres since the frontline workers needed disposable medical supplies and the government alone could not do donations all the time.
A minute read: The Ga East Municipal hospital has received items worth GH¢ 50,000 from the Australian High Commission to help in its COVID-19 response efforts in the Municipality.
Source: Graphic Online