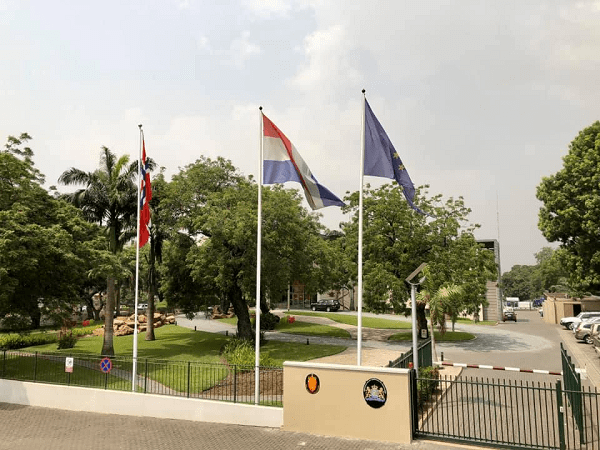 The Netherlands Embassy in Ghana has closed its offices following the confirmation of two cases of the deadly Coronavirus (COVID-19) in Ghana.
The Embassy in a statement posted on Facebook on Saturday, March 14, said it was closing down until further notice.
Citing the reason for the shutdown, the Embassy said, "Following confirmation by the Norwegian Embassy that one of their staff has tested positive for the COVID-19 virus, the Embassy of the Netherlands in Ghana is closed to the public until further notice. The Netherlands and Norwegian Embassies are located in the same building.
"The Netherlands Embassy is in contact with Ghana Health Service to assist with containment efforts. As a precautionary measure, embassy staff is working from home.The Netherlands Embassy is keeping close track of the situation and will inform the public of any new developments. We reiterate the importance of following preventive measures issued by the WHO and the Ghanaian authorities," the statement said.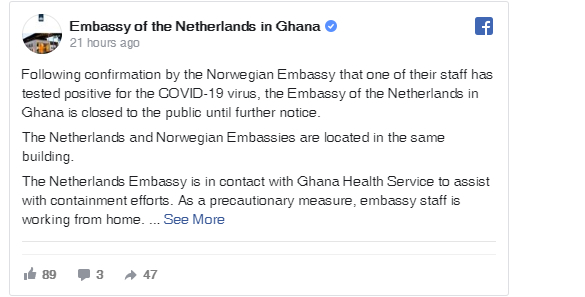 The Norwegian Embassy in Ghana on Friday closed its offices after one of its staff tested positive for the Coronavirus disease (COVID-19).
The Embassy said it had quarantined all staff in commitment to assist with containment of the disease.
"All staff are also in quarantine, and we are fully committed to assist with containment. The Embassy is closed to the public until further notice, but staff are operating from home", the Embassy said in a Facebook post on Friday.
Graphic Online