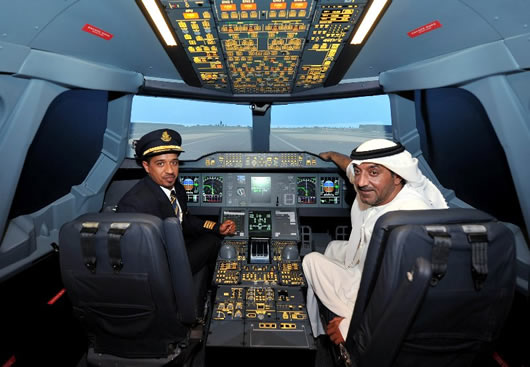 Emirates Airline is offering more for families travelling with youngsters, with new figures, showing it carried over two million children last year.
The Airline, voted Skytrax's World Best Airline, is pulling out all the stops to keep the young ones travelling from Ghana and elsewhere on Emirates' routes, entertained both in the air and on the ground, during the forthcoming summer holidays.
A statement issued to the Ghana News Agency said, in the 2013/14 financial year, Emirates carried 2.3 million youngsters (children from 2-11years) demonstrating its strong family following.
"Even before departure, complimentary baby strollers and changing tables are available within Emirates' dedicated Terminal Three and there are play areas equipped toys within Emirates' exclusive lounges. Priority boarding is provided to families with young children."
However, it is on board that the real fun starts. The dedicated children's channel on the popular ICE entertainment system brings an array of cartoons, interactive games, podcasts and CDs.
"There are currently more than 60 children's movies on ICE, including the entire Harry Potter series, a whole section dedicated to Disney Classics, plus over 20 dedicated children's television channels including CBeebies, Disney Junior, Cartoon Network and Nickelodeon. The young ones can also immerse themselves in hours of the very best music, such as One Direction, Justin Bieber and Katy Perry, " the Airline said.
Young flyers can meet AirBoe and Oggie, amongst the new cuddly monsters and explore activity-filled backpacks, all provided on a complimentary basis. Emirates' aircraft also carry kids' favourite meals, as well as vegetarian options.
Sheikh Majid Al Mualla, Emirates' Divisional Senior Vice President, Commercial Operations, and Centre stated: "We go to great lengths to entertain and occupy children with products and services that are constantly being updated and enhanced. We know keeping the young ones happy is a key part of ensuring a smooth and enjoyable travelling experience for the whole family so investment in this area is very important."
Emirates recognises that loyalty is also essential amongst its younger customers, thus children have their own frequent flyer programme called Skysurfers,  where miles can be exchanged for free flights, toys, books and entry to attractions in Dubai.
Emirates Holiday's, meanwhile, is well equipped to deal with families with specially-tailored packages. Many of the hotels available through Emirates Holidays offer kids' and teens' clubs.
Source: GNA