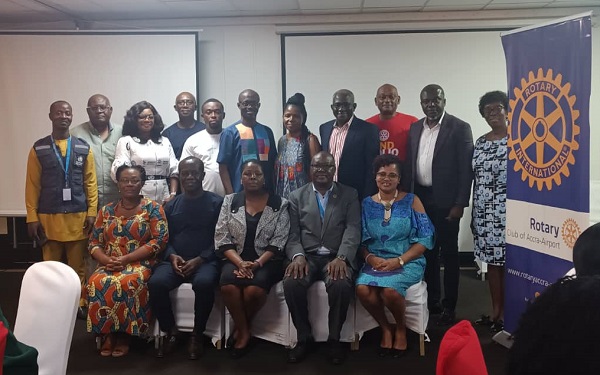 The United Nations High Commissioner for Refugees (UNHCR) has disclosed that Ghana is home to a little over 10,000 refugees from Africa.
The refugees are from countries including Togo, Sudan, Burkina Faso, Liberia and Cameroon.
According to the Country Representative of the UNHCR, Esther Kirugu, the figure reduced to 17,000 this year when 7,000 refugees from neighbouring Cote d'Ivoire returned to their country while others regularized their stay in Ghana using immigration channels.
She also lauded Ghana for its rich history of hosting refugees and ensuring that they enjoy protection without discrimination until they are able to return to their home countries.
Arise for Polio
Ms Kirugu made this known on Thursday (October 20, 2022) at a Fundraising Breakfast Meeting organised by the Rotary Club of Accra-Airport.
The meeting held at the Lancaster Hotel in Accra was themed Arise For Polio and held to raise funds for the PolioPlus Fund which provides polio vaccines, mobilizes community resources, and supports operational costs related to international efforts to immunize children, detect and track cases, and eradicate polio worldwide.
Link
Speaking about the link between polio and refugees, Ms Kirugu said while vaccination coverage was almost 100 per cent during times of peace, there had been cases of re-emergence of polio and a lack of access to vaccination due to discrimination or conflict.
"Take the case of Afghanistan and Pakistan. The Sustainable development Goals in particular Goal 3 on good health and well-being is particularly relevant here. But so are all the other goals whether you talk about poverty eradication, zero hunger, reduced inequalities, climate action, quality education they are all interconnected and interdependent," she said.
"Peace and stability is a prerequisite to enable the realization of these goals. The existence of refugees is an indicator that all is not well. We have a lot of work to do but we cannot tire because it is about us – humans – and no one is safe until we are all safe!".
Ms Kirugu also lauded Rotary and all its members for being at the forefront of the fight to eradicate polio over the last three decades.
She said its "members have given of their time and resources and/or to support the course one way or other either working with health workers to vaccinate children; preparing and distributing materials to raise awareness in hard-to-reach places including those isolated by conflict among, mobilizing and recruiting volunteers among other contributions".
"We salute you all. We now know that some 2.6 billion dollars was raised at the recent World Health Summit, and we hope that trajectory is maintained to fund the GPE Initiative 2022 – 26 Strategy. Clearly, as we have been taught by the experience of COVID-19, no one is safe until everyone is safe. And this underlines the importance of what you are doing, and it is an honour to be associated with your work".
Commendation
The World Health Organisation (WHO) Representative, Dr Francis Kasolo congratulated the Ministry of Health, the Ghana Health Service, Rotary and all other partners on the successful implementation of two rounds of national immunization days (NID).
He said the NID was a giant step in a collective effort to break the transmission of circulating vaccine derived polio virus type 2 in Africa.
Source: graphic.com.gh