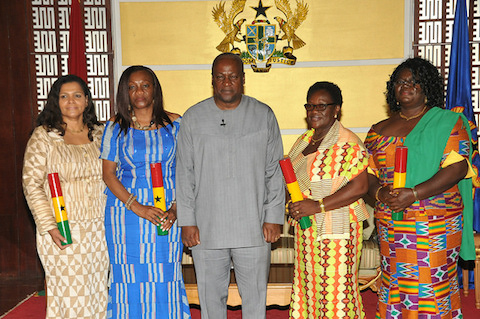 President John Mahama on Thursday, June 12, 2014 commissioned four new ambassadors to represent Ghana in France, Benin, Denmark and Korea.
The new envoys are Mrs. Johanna Odonkor Svanikier, Ambassador to the Republic of France; Mrs. Norvisi Aku Abaidoo, Ambassador to Benin; Mrs. Edith Hazel, Ambassador to the Royal Kingdom of Denmark and Mrs. Elizabeth Nicol, Ambassador to the Republic of Korea.
Commissioning the ambassadors, President Mahama charged them to use their good offices to attract investors to Ghana and strengthen diplomatic ties between Ghana and their respective countries of designation.
In a separate development, two outgoing envoys, from Sudan, Ambassador Mohammad Eisa Ismail Dahab and Madam Abdoulmoumine Hadjio Yaye of Niger, farewell calls on President Mahama at the Flagstaff House at the conclusion of their tours of duty in Ghana.
Source: Office of the Presidency